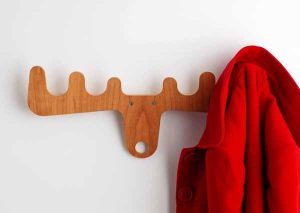 Modern home accessories from British design company All Lovely Stuff are very functional and cute. The British company, established by two creative and talented designers Carl Clerkin and Ed Ward presented its decorative accessories for home during pre-Christmas The Temporium exhibition.
Lovely modern home accessories include playful wall mirror and clothes rack designs that look friendly and playful, and offer wonderful wall decoration ideas for kids rooms and entryways. Made of wood, warm and attractive modern home accessories will beautify any room.
Cute wooden wall mirror frame look like a Teddy Bear head. Wooden clothes rack designs can add Christmas mood to the entryway, bringing rain deers images into winter holiday homes. Deer antlers will work well for home interiors in eco style.
Modern decorative accessories for eco friendly homes
Teddy Bear wall mirror frame, modern home accents from All Lovely Stuff, modern decorative accessories made of wood
Natural material, simple and elegant designs, familiar images and nature inspired theme make modern home decorative accessories great wall decorations.
Attractive wall mirror frames and clothes racks, scissors and other everyday items add fun to modern home furnishings and will be enjoyed by kids and adults.
Deer antlers clothes rack, modern home accents
Interesting and stylish decorative accessories from All Lovely Stuff are unique, offering one of a kind modern home accents that created with good taste and love. Functional and beautiful, creative and modern decorative accessories will stay in homes for long time and be favorite home accents that improve mood and make kids and adults smile.
Modern home accessories for bathroom decorating
Kitchen accessories for spice storage
Amusing Deer antlers clothes racks, Teddy Bear wall mirror frame and scissors that look like Asian chopsticks are modern home accents, designed for kids and fun loving adults. Gorgeous and lovely, modern home accents from All Lovely Stuff, made of natural materials, are perfect for eco friendly homes.
Unique decorative accessories, eco friendly and modern wall decorations made of wood
Modern decorative accessories for eco homes from The Temporium, England
Modern home accessories, small furniture items and LED lighting fixtures, embroidery designs and handmade toys, made of natural decorative fabrics and materials, are a nice way to decorate eco friendly homes or surprise loved ones with unique gifts.
Caps for cups, lovely kitchen accessories
Posted: 18.12.2011 by Decor4all