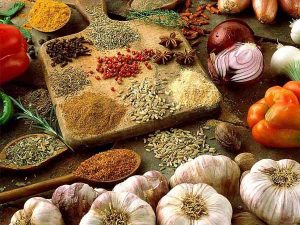 Modern kitchen accessories for spices storage should protect spices from the direct light, heat and moisture that alter vibrant color, unique flavor and aroma. Essential oils can quickly evaporate, if spice containers are kept on open kitchen shelves near the fridge, window, sink or stove. A dark, cool and dry place for spices storage is ideal. Spice shelves and racks, arranged in your kitchen pantry or cabinet create a perfect space for spices storage.
Although there is the temptation to place your spices on a shelf above your stove or keep them on the wall, avoid store spices on open shelves in plastic or glass spice containers. While pretty glass spice containers offer beautiful, colorful and charming kitchen decorating ideas, glass bottles and spice jars are not the best kitchen accessories for spices storage.
Select a small spice rack with small spice containers, that close tightly for efficient and healthy spices storage. Buying sices in small quantities and refreshing your spice collection often allow to enjoy the vibrant color, delicious flavor and aroma of your dishes cooked with spices. Whole spices last up to three years, and ground spices retain their flavor and potency for one or two years.
Vibrant colors, unique aroma and taste will deliver the flavor you want to experience in your culinary endeavors. Start with a small spice rack and small spice containers, but reserve more space to allow your spice collection to grow. Beautiful kitchen accessories for spices storage offer simple and elegant kitchen decorating ideas Small spice jars, tins and bottles look charming with a convenient spice organizer make kitchen decor more comfortable and functional. Have fun cooking and enjoy your spicy creations.
Modern kitchen decorating ideas
Country kitchen decorating with gray, white and pink-red colors
Tuscan kitchens, inviting Tuscan kinchen decor
French country home decorating ideas from Provence
Selecting a spice organizer and spice containers
1. Buy a small contemporary spice organizer and reserve more kitchen storage space for your growing collection of spices you frequently use. A starter spice organiser gives you an opportunity to see how many different spices you need to keep them fresh and customize your collection of spice containers in different sizes in the future.
2. Keep spice containers are easily accessible, selecting practical and convenient spice storage design. Wooden, stainless steel or ceramic spice containers that close firm are good kitchen storage solutions for spices. Contemporary spice containers, made of extra thick glass, are excellent for spices storage, if placed away from windows and lighting fixtures. Glass spice containers are bright and charming modern kitchen decorating ideas that add light and color to kitchen decor.
3. The pull down latch closure is a convenient feature that creates a tight seal to keep dry herbs and spices safely stored.
4. Equipped with its own stand with a handle, spice containers add practical and convenient portable spices storage solutions to kitchen decor. Portable stands with spice containers are beautiful dinner table decorations and elegant kitchen decorating ideas for home staging.
Spice organizer designs
5. A magnetic spice rack is one of must-have modern kitchen accessories  for contemporary kitchens. A magnetic spice rack looks stylish, convenient and unique, offering modern design for spices storage and bringing contemporary simplicity and elegant kitchen decorating ideas into modern homes.
6. Innovative contemporary spice storage systems are not only designed to keep the spices fresh, but look add additional comfort to kitchen decor. Modern spice containers include convenient clear viewing windows so that you can quickly identify the spices.
7. Creative spice storage systems are unusual and charming kitchen decorating ideas that are designed to add unique spice storage and decorative accents to modern kitchen decor. Glass test tubes with a natural cork stopper make wonderful wall decorations and offer a unique way to store 55ml of whole or ground spices, and 200ml of flavoured oils, vinegar, or sauces on the wall for quick and easy access to your culinary accouterments.
Modern kitchen accessories
Caps for cups, kitchen accessories and table decorations
Kitchen curtains, smart window treatment ideas
Table decorations, charming table decorating with fabric
Posted: 03.10.2011 by Decor4all