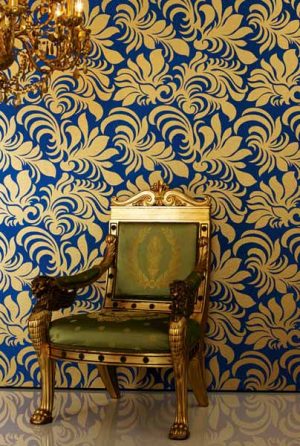 Beautiful wallpapers from Harald Gloockler Pompous Design Mode are glamorous, romantic and very decorative. The collection of modern wallpaper designs is created with innovative technologies Marburg and offers wonderful latest wallpapers for modern interior design and decorating walls in elegant style.
Beautiful wallpaper designs bring golden colors and amazing designs, creating luxurious modern interior design and chic atmosphere with new Pompous Glamour trend.
The most unusual and most impressive wallpaper designs are the result of blending new technology, classic designs and contemporary interpretation of luxurious interior design ideas that will work well for home interiors and gorgeous palaces.
Beautiful wallpapers by Catalina Estrada, colorful wall decorating ideas
Latest wallpapers from Italian WallDeco, modern wall decorating ideas
Modern wallpaper with golden and silver designs
Blue wallpaper with golden floral designs, modern interior design
Gloockler by Marburg is the collection of high quality modern wallpaper that add chic ad luxury to modern interior design and decorating, creating stunning walls with precious decorative details.
Beautiful wallpapers in royal blue, red and golden colors with glamorous designs, decorated with crystals and semi precious stones.
Golden wallpaper with peacock feather for modern interior design
Red wallpaper with golden crown designs, exclusive interior design and decorating ideas
Some unusual wallpaper patterns look like leopard fur with stripes in golden colors. Other beautiful wallpapers with silver angels, hovering above the crowns, create elite walls.
Beautiful wallpapers, romantic vintage wallpaper patterns
Modern wallpapers with leaves for eco decor
White wallpaper with silver tassels and gold wallpaper are inspired by exclusive, striking and pompous interior design and decorating in Baroque style.
Gray wallpaper with silver tassels, glamorous interior design and decorating
Posted: 16.04.2012 by Decor4all