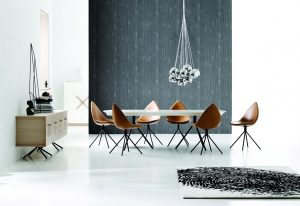 Modern home furnishings from Karim Rachid, developed for BoConcept, create a new stylish collection of contemporary furniture and room decor accessories, made of wood, glass and plastic. Elegant and light the Ottawa Collection is a complete dining room set with the table, chairs, sideboard, cabinet, floor rug, lighting fixtures, decorative items and tableware.
A light-hearted line of colorful room decor accessories complements the dining furniture set, creating an entire dining room decorating for urban homes.
The minimalist, but creative style offers unique dining furniture, decor accessories and tableware with attractive details that make each piece hard to resist.
Contemporary dining room decorating ideas from Karim Rashid
Designer furniture, room decor accessories and lighting fixture for contemporary dining room decorating
The dining table features a soft slanting under-skirting and leg clusters that make it welcoming. Inspired by nature, the dining chair design celebrates the simplicity of the leaf that creates an elegant cross-table profile when pushed in, and like the table, sits on a forest of legs, perfect for tucking in your feet.
The sideboard has sensual and intuitive handles that are really functional eye candy. Colorful inserts can be used to customize the handles and ends of the sideboard piece, creating more personal dining room decor.
Leaf shape inspired dining chairs and a table, floor rug, storage cabinet and lighting for contemporary dining room decor from K.Rashid
The dining room cabinet has large graphic easy-to-use handles that add a whimsical element to modern home decor and come in two colors, oak or green. Together, the dining furniture pieces create an urban environment that is smart and savvy.
Dining room decorating in Moroccan style
Dining room accessories that complete the set include a bold black and white fingerprint floor rug created to speak about the "new global uniqueness where we are all empowered to express our individuality," – suggests Karim Rashid.
Modern tableware in black and white colors with purple accents, modern dining room decorating ideas
A cheerful color palette of puzzle shaped vases, a futuristic bright orange pendant lamp, a coordinating glass touch lamp with the same bright orange cord, a hand-made aluminum bowl designed to form a pattern.
Minimalist interior design style, urban apartment decorating ideas
Paper Boat dinnerware sets, nautical theme for party table decoration
A set of originally designed cups, espresso cups and rimmed saucers make a modern tableware set that celebrates Rashid's art.
Designer furniture, decor accessories, lighting and tableware for dining room decorating
Posted: 27.01.2012 by Decor4all