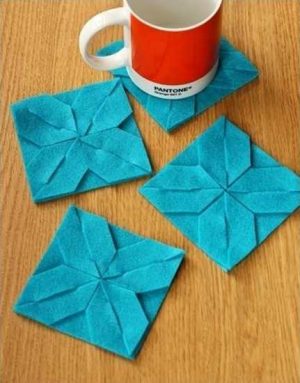 Weaved place mats and hot pot mats inspired by origami art are wonderful crafts that add unique decorative accessories to kitchen and dining room decor. A weaved place mat can be made by kids and adults, giving a personal touch to your home decorating and adding beautiful and functional, artistic and cheap home decorations to your home.
These origami accessories are easy to make and require very few materials: paper, scissors, a craft knife and tape or glue. The craft ideas offer a nice way to recycle home fabrics while bringing more interest and color to kitchen decor and brighten up your dining room decorating.
Origami place mats are fun to design and can be used as decorative accessories for picnics or at the dining room table. Young children will practice their hand-eye coordination with these simple but impressive patterns. Older children will enjoy experimenting with different decorative fabrics if you encourage variations and fine detailing. Adults will relax creating origami place mats that look fantastic and original.
Handmade place mats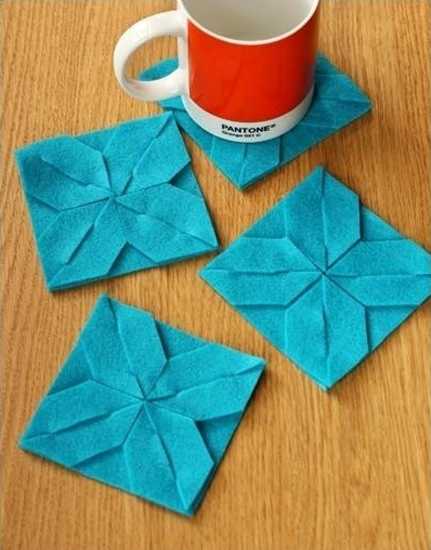 Origami means to fold paper. Making origami accessories for your home decorating is relaxing and inspiring, allowing to declutter your home and show off your artistic nature. Making decorative accessories of home fabrics trains fine control over muscles, offering healthy craft ideas for kids and adults.
Origami craft ideas are an outlet for your creative side. Weaved in intricate patterns decorative fabrics amuse and amaze kids, while creating practical and unique dining room and kitchen accessories.
These cheap home decorations provide nice, functional and always stylish decorative accessories while recycling useless fabric pieces.

There are so many different models for handmade place mats, and there is always something new to try, like these origami designs created of fabrics. The origami craft ideas look interesting and impressive, offering fun activities for the whole family and inspiring ways to create very special gifts.
Home fabrics and craft ideas for room decorating
10 mo0dern and simple wall decoration ideas with fabrics
Handmade table decorations, charming table decoration with fabric
Creative furniture decoration with fabrics for quick makeover
Origami craft ideas for handmade place mats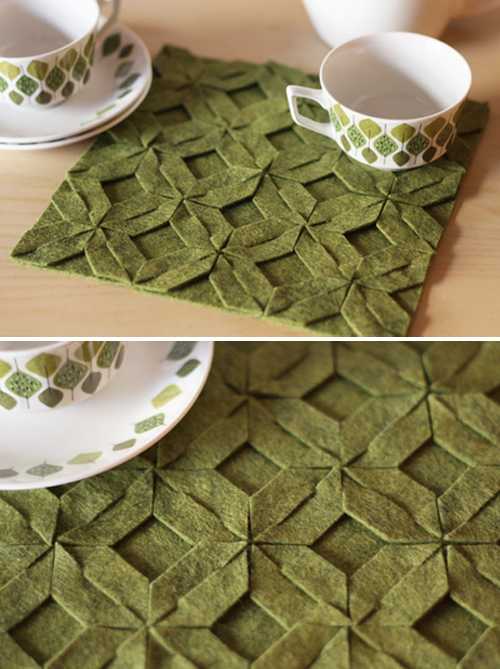 Posted: 16.04.2013 by Decor4all