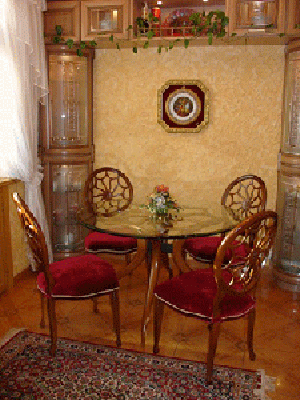 Decorating dining rooms Moroccan style is about rich saturated paint colors, dark wood Moroccan furniture, luxurious natural upholstery fabrics and exotic decorations. Moroccan dining room design effeciently utilize available indoor and outdoor small spaces, creating warm and cozy dining room decor with soft furniture, Moroccan lantern, lamps or candles and unique wall decorations.
Traditional dining room  furniture include a round table, comfortable chairs or benches with soft cushions and sofas for resting in style after a meal in the same room, where the food was consumed. Round dining room tables are great for gathering and dinners, when meals are served on one large plate. Often low dining room tables serve as a coffee table, surrounded by Moroccan poufs, daybeds and benches with soft cushions, made of natural pleasant decorative fabrics.
Using daybeds for decorating dining rooms Moroccan style requires additional large cushions, as daybeds have deeper seats as traditional Moroccan benches. Once sofas, daybeds or benches are in place, bring a round dining room table, made of dark wood and add comfortable chairs. Decorating dining rooms Moroccan style increase the capacity of small spaces and offers a great ideas for large families living in a small homes.
Moroccan style dining table decoration ideas
Arabian Nights themed party table decorating ideas
Marrakesh pink-orange table decoration in Moroccan style
Middle Eastern party tabl decoration ideas and centerpieces
Decorating dining rooms Moroccan style create beautiful and multifunctional room with comfortable decor, which is perfect for dinners, tea parties, playing board games or just relaxation and conversation.
Bring more decorative fabrics into dining room ideas, creating faux curtain panels that lend interest to a windowless wall. Natural materials and a large Moroccan lantern or few exotic Moroccan lamps and candles in metal or leather candle holders form an exotic silhouette of Moroccan decor. Dark wood and unique wall decorations are dining room ideas that add ethnic flavor to dining room ideas, emphasizing the beauty of Moroccan style.
Dining room ideas for creating Moroccan decor
Moroccan decor ideas are about extensive use of textures and rich colors for Moroccan home decoration. So, if To create Moroccan style dining room look, avoid smooth and sleek materials, bringing wooden furniture, silky home decor fabrics, wool rugs, a large Moroccan lantern or few smaller Moroccan lamps and candles, made of colored glass, metal and leather. The blend of many different textures, shapes and colors create exotic dining room ideas, celebrating the comfort and beauty of Moroccan style.
Colors for Moroccan style decorating ideas
Warm colors for bedroom decorating in Moroccan style
Exotic Moroccan bedroom decorating, light and deep purple colors
Moroccan decor, Moroccan decorating color schemes
Two types of Moroccan decor
Different Moroccan dining room ideas can be used for urban Moroccan decor and rural Moroccan home decoration. The urban Moroccan decor ideas include the use of ceramics, metal, wood and leather. The rural Moroccan decoration is influenced by Middle Eastern dining room decorating ideas, with a strong emphasis on the use of Moroccan rugs, extensive use of home decorative fabrics, embroideries, bright large soft cushions, Moroccan poufs and handmade Moroccan decorations.
Posted: 19.08.2014 by Decor4all