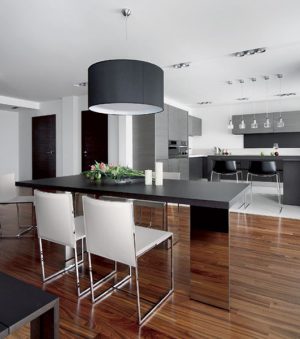 Minimalist interior design ideas, classic decorating and Art Deco style are very popular. Classic interior design ideas bring luxurious comfort and elegance into modern homes. Art Deco style creates unique rooms, incorporating deep colors, exotic decorating ideas and materials, like African, South American and Asian wood, fabrics, fur and leather, that add chic to room decor.
Minimalist interior design ideas from Russian designers combine the simplicity and clear lines with expensive contemporary materials that make room decor look exclusive, blending luxurious spaciousness with European charm of small spaces.
Russian architect Pantyuhina (photographs by R.Ahunov) created an urban apartment decorating that feels stylish and airy, comfortable and functional, celebrating light and dark color combination.
Apartment decorating in minimalist interior style
Airy apartment decorating features a gray slate wall design that is functional and very decorative. The wall separates a private zone, that includes the home office, bedroom with a walk-in closet and bathroom, from an open zone with living room, kitchen and dining area.
Slate wall design helps to keep the temperature in the apartment constant and works as a stylish decorative element, adding unique charm to contemporary minimalist interiors.
Dining room decorating in minimalist style, contemporary dining furniture and large ceiling lighting fixture
The apartment is separated on few functional zones with lighting fixtures. Dark lamp shades create soft glowing light, creating beautiful contrasts with contemporary lighting ideas. Wall panels and wood furniture add comfortable brown colors to minimalist interior design ideas, creating warm room decor with wood floor and soft curtain fabric.
Fusion of contemporary minimalist and classic home decorating styles
Thanks to the deep relief, unusual color of stone, and especially the lateral wall lighting revitalized, diversified strict and laconic interior. In addition, the texture of the stone gave it a new meaning: Reserved area hidden behind her like a stone wall.
Contemporary kitchen design in minimalist style
Rich color palette includes golden, light and dark brown colors, neutral beige, soft coffee, elegant gray and classy white tones, that work well with room decor accessories in ruby red. Beautiful natural colors of wood contrast with light room decor, created with natural cotton color shade.
Modern interior decorating ideas, inspired by Californian coast beauty
Techno interior design style, contemporary room decorating ideas
This apartment decorating is an excellent example of creating a modern and functional urban interior in minimalist style with comfortable layout and inviting room decor. Well organized, ergonomic and stylish apartment decorating ideas create a wonderful sense of light, airy and free-flowing space.
Posted: 11.01.2012 by Decor4all