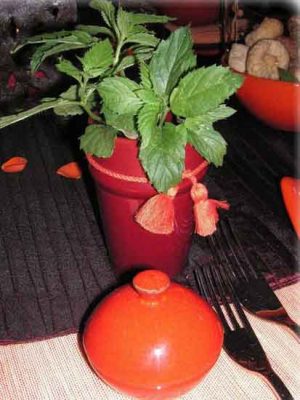 Exotic party table decoration in Moroccan style can be created with soft pink-orange colors and party table decorating ideas, inspired by beautiful Marrakesh, painted entirely in a romantic and tender salmon pink color. Party table decorating ideas that combine purple-red, silver or golden colors with pink-orange tableware create impressive and bright table decor and make your special event or romantic dinner, inspired by the jewel of Morocco, the epicenter of culture and trade, unforgettable.
Simple table decoration, Moroccan lanterns, dates, figs and flower centerpiece ideas, glowing candle light, soft orange color schemes with dramatic purple-red and romantic pink color accents, and the aroma of Moroccan mint tea offer calming and welcoming dining experience with exotic flavor and bright table decoration in Moroccan style. Impressive and colorful Marrakesh party table decoration in deep purple-red and pink-orange colors is perfect for those who like to create unique atmosphere, blending comfortable modern table setting ideas with charming table decoration in Moroccan style.
Famous around the world for market places with fruits and spices, Marrakesh has a mystical aura that can be added to your party table decoration in Moroccan style with unique table centerpieces, created with spices, dates, figs or roses and decorated with shiny ribbons and colorful glass beads. Table centerpieces and Moroccan decorations in warm orange color with a tender pink color touches help create a famous pink haze of Marrakesh.
Moroccan bedroom decorating ideas
Blue and green bedroom colors, Moroccan bedroom decorating ideas
Exotic Moroccan bedroom decorating in light and deep purple colors
Warm colors for bedroom decorating in Moroccan style
Moroccan style party table decorating ideas
Arabian Nights themes party table decorating ideas
Inspired by traveling to ancient Marrakesh, purple-red and pink-orange color schemes are great for party decoration and table decorating ideas that will evoke a timeless romance and symbolize the power and optimism. Tablecloth and napkins in white cream and dark purple-red colors, combined with tableware in soft pink-orange color and crystal glasses look luxurious with silk and satin ribbons, silver and golden decorative cables and tassels, colorful glass beads and unique handmade crochet crafts and Moroccan party table decorations.
Add silky decorative fabrics in bright colors for a special event or use soft natural decorative fabrics in dark colors for relaxing party table decoration in Moroccan style. (Modern interior trends, decorative fabrics) Bring small handmade crochet crafts and make floral table decorations, made with roses and green leaves for creating beautiful and festive table centerpieces.
Knitted party table decorations, crocheted crafts and glass beads make Moroccan style party table setting look interesting and unusual. Traditional Moroccan style shoes or colorful small bags with tea light candles make excellent party table decorations and pleasant after party gifts to your guests.
Add Moroccan lanterns and tea light candles to your party table decor for creating glowing mystique atmosphere of ancient Marrakesh. Small indoor plants, like miniature palm trees or pepper mint herb leaves, red and pink roses, dates, figs and colorful spices in attractive small pots will create a beautiful blend of Marrakesh inspired party table decorations, offering simple Moroccan style table centerpieces and making your guests to wonder and enjoy your creative party table decor.
Decorative fabrics in bright solid colors, summer party table decoration
Exotic ikat pattern, modern interior trends
Quiet Moroccan style music in the background is the final touch to Marrakesh inspired party decoration. Beautiful and colorful, luxurious and comfortable party table decorating ideas in white cream, purple-red and salmon-pink-orange colors offer a unique opportunity to travel around the world from the comfort of your home.
Posted: 09.08.2011 by Decor4all