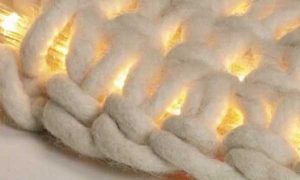 Night lights that softly illuminate rooms can add stylish accents to interior decorating. LED lights make night light designs energy saving and eco friendly. Unusual shapes, colors and interesting materials or techniques used for making night lights, make these lighting fixtures true home decorations and excellent gifts.
Here are DIY night light ideas that are inspired by original Light Carpet designed by Johanna Hyrkas, a Finish designer who works in Helsinki. The crocheted Light Carpet with LED lights looks attractive and functional, allowing to illuminate the entire room floor at night and create safer room or add a beautiful accent light to your floor decor.
Half asleep you will not stumble on something in the dark, even when you can not use general lighting in your room. Luxurious and warm Light Carpet is a night light made of a wool felt rope. It is an original, simple and wonderful night light solution, that can inspire many designs that will add comfort and flare to your room decor.
Crocheted floor rug with LED lights
Original Light Carpet with LED lights crocheted of rope
Felt rope texture and LED lights
It is easy to make a round crocheted floor rug, using natural ropes, wool or cotton, felt, thick yarns or long pieces of used linens, table clothes and T-shirts. A handmade floor rug with a colorful string of LED lights will beautifully match your room decor palette, adding warmth and comfort to your interior.
Using various ropes or yarn types can also attractively modify the original Light Carpet design. Various textures and colors will create an amazing floor rug with LED lights for your personalized and eco friendly room decorating.
Handmade floor rug with purple led lights
Crocheted night light with led lights
Posted: 03.09.2012 by Decor4all