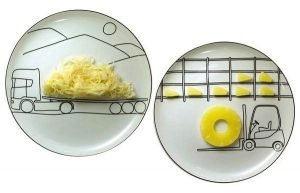 Playful kids plates, inspired by a transportation theme are wonderful gift ideas for kids and their parents. Polish designer Boguslaw Sliwinski created interesting kids plates, great for interacting. The set of Transportation Plates is fun tableware that brings the interesting theme into table decor, encouraging toddlers and young children to eat quicker and enjoy time at the table .
Transportation Plates for kids from Boguslaw Sliwinski, boguslawsliwinski.com/ are fun painted kids dishes in white color trains, barges and cars that transport food. Contemporary ceramic plates are toys for kids that look like a table game, to play which a toddler or a young child needs to unload, transport and eat food pieces.
Designer Boguslaw Sliwinski believes a child can not be persuaded to eat, but will play and have fun while eating. That is the great concept for Transportation Plates for kids design.
Playful set of kids dishes and cups, Train Breakfast Set
Spinning kids party, fun table decoration ideas
Black and white plates for kids, playful transportation theme inspired kids dishes
Kids plates are available in medium and large sizes, 20 and 25 cm (8 and 10 inches) in diameter, perfect for playing with food. The food can be moved without slipping from the plate. A your kid will prepare food to transport or unload it to his/her mouth from a truck or a barge on the plate, making parents' life a bit easier.
Another set of kids plates offers to create various unusual and fun hairstyle with food, encouraging kids to think of new ideas while eating some pieces.
Fun kids plates for playing with hairstyles created with food, unique black and white tableware sets and gifts for children and adults
The transportation-themed kids plates design ideas show kids how to draw simple and familiar images of trains, boats, cranes, trucks and helicopters also, adding an educational flavor to an interesting game.
Paper Boat Dinnerware sets, nautical theme party table decoration ideas
Eva vase by Iron Retting, decorative accessories for small homes
The ceramic plates for kids are treated by high temperatures to ensure a durable and safe tableware set design for children.  Playful and encouraging to interact, featuring simple drawings of trains, boats and cranes, or different faces, tableware sets from the designer make excellent gifts for kids and their parents.
Transportation Plates for kids and fun loving parents
Posted: 20.02.2012 by Decor4all