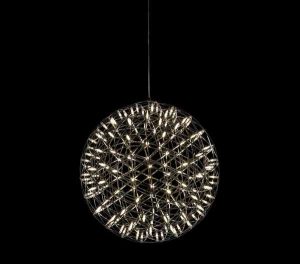 Modern chandeliers and ceiling lights are key elements of your home decorating. Efficient and beautiful ceiling lighting fixtures that match your floor and table lamps or wall sconces, emphasize the beauty of your interior decor and create a pleasant mood in your bright and comfortable rooms.
Modern chandeliers and small ceiling lighting fixtures are a beautiful way to highlight your interior decor and hide what is not worth of the attention, adding charming light to your rooms and making them feel cozy and warm at night.
Modern chandeliers and ceiling lights come in all style, sizes and colors. Classic and contemporary ceiling lighting fixtures are stylish and functional items that reflect modern trends in interior decorating.
Selecting lighting fixtures for stylish room decorating
Contemporary ceiling lighting fixture with glass lamp shade
Classic chandeliers are popular decorative lighting fixtures. Made with crystals or silky fabric lampshades, they can feature bronze with patina, wrought iron or gilded metal parts that add an antique feel to your interior decorating ideas.
Modern chandeliers are made of nickel-plated, chrome-plated metal or copper. Their minimalist design, combined with the simplicity, make them versatile.
Modern chandelier, pendant lights and ceiling lighting fixtures with crystals
When you choose a modern chandelier or small ceiling lighting fixtures for your interior decorating, consider the decorating color scheme and match your room decor in style. Bright lighting fixtures are better to choose for large rooms and bathrooms to create functional and comfortable environment.
Home lighting fixture from Barovier Toso in retro styles
Contemporary lighting fixtures from MOOOI, mirrored lamp shades
Large chandeliers or ceiling lighting look gorgeous in living rooms, family rooms or game rooms. Large ceiling lights and chandeliers are great for highlighting beautiful staircase designs.
Contemporary pendant light in white color and different shapes for modern interior decorating
Dining room decorating requires lots of light for creating festive and bright room decor, so bright lighting fixtures are suitable for dining room decorating also. Private rooms which are designed for relaxation, look cozier and calmer with soft light.
Posted: 25.08.2012 by Decor4all