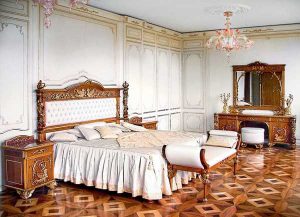 Classic style is about luxurious comfort and gorgeous look. Fascinating Italian decorating ideas from Citterio Fratelli marry modern interiors with fabulous home furnishings, beautiful furniture in vintage style, amazing chandeliers and decor accessories, creating luxurious and spectacular rooms and giving great inspirations for decorating homes in classic style.
Italian home decorating ideas from Citterio Fratelli are exclusive, offering furniture in classic style that look like artworks. The family company has been manufacturing beautiful furniture that help turn modern interior into luxurious and comfortable retreats in classic style.
Wood furniture in classic style showcase the essence of the art of decor. Gorgeous furniture requires an appropriate background, fascinating and rich decor looks better with neutral walls and ceiling. A gorgeous bed and night tables with carved wood details, placed against light colored walls is the best way to demonstrate the majestic beauty of wood furniture in classic style.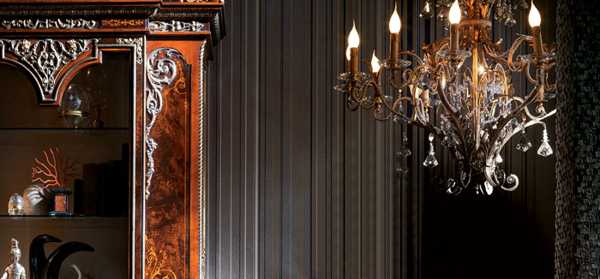 Interior decorating in classic style, wood furniture, wall mural, fireplace and wood wall panels
Light furniture upholstery fabrics or light floors emphasize unique wood furniture design in classic style, celebrating the charm and elegance of Italian decorating.
Interior decorating ideas in classic style are not only impressive and exquisite, but also comfortable, relaxing and pleasant. Wood furniture in vintage style and unique crystal chandeliers, combined with luxurious home fabrics, create the atmosphere of wealthy, warm and welcoming home.
Classic style for bedroom decorating, light walls, bedding and furniture upholstery fabric, wood floor, crystal chandelier and wood furniture in classic style
Striped wallpaper patterns and light color shades of home fabrics work well with wood furniture, lighting fixtures and decor accessories in classic style. Italian decorating turns a small living room or a bedroom into a palace-like, chic and soft interiors where you can relax like a king or queen.
Modern interior design in Louis XV style, luxurious room decorating ideas
20 mo0dern bedroom ideas in classic style, beautiful wallpapers and furniture
Natural warm tones and texture of the wood furniture pieces, combined with light home decorating fabrics make modern interiors feel bright and pleasant, giving Italian decorating inspirations for transforming your living room or bedroom into charming rooms in classic style.
Italian home decorating in classic style
Wall paintings, tapestry or wall mural, inspired by natural themes and landscapes are excellent accents that you can add to your beautiful living room or bedroom in classic style. Large wall murals, striped wallpaper patterns and light interior decorating colors visually expanded the boundaries of living space, added airy and fresh feel to your modern interiors and bringing the Italian decorating spirit into your home in classic style.
Posted: 30.11.2018 by Decor4all