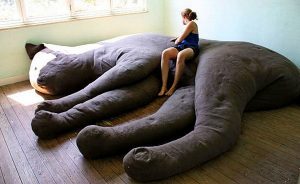 Gian Sleeping Cat Couch designed by Belgian designers, participating in a unique interior decorating project HABITAT 2010,  interpreting the Living theme and decorating few rooms in an empty building in unique and creative style. One of the rooms was decorated with a large Sleeping Cat Couch, made of soft fabric.
Various artists decorated eight apartments in an empty apartment block on Manchesterlaan, using the empty spaces to create their own interpretation of the concept of Living. The artists were the last inhabitants of the building before the entire district is subjected to comprehensive renovations.
The Belgian design studio Unfold has presented to public their design project Giant Sleeping Cat Sofa, perfect for kids rooms and playrooms. The cat couch in the size of 3.5 m ( about 11 ft) will add fun and smiles to kids room decorating.
Modern home decorating ideas, large decorative pillows from Studio Vertijet
Decorative cushions, food inspired designer pillows
Soft Cat Couch made of plush fabric
Large pillows and furniture made of fabric, unique furniture design
Large and soft Sleeping Cat Couch will be appreciated by adults also. Made of plush cat couch looks welcoming for the entire family.
This couch design is a part of the installation Felis Domesticus, created at the initiative of Bruno Herzeele and now intended for decorating halls of Luchtbal Cultural Center in Antwerpen.
Large decorative cushion Sleeping Cat for fun kids room decorating
The idea of creating soft and pleasant large pillow isinspiring, making you think of a craft project that will add a pleasant image to interior decorating and make floor decor more comfortable and interesting.
Posted: 11.05.2012 by Decor4all