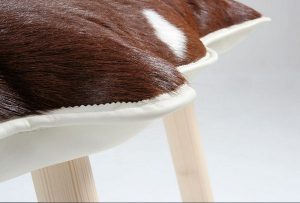 Modern home decorating ideas from Studio Verijet reflect design trends in decorative fabrics and furniture. Fur and upholstery fabrics with animal prints, textures that remind fur or leather and contemporary shapes of modern furniture pieces blend into modern home decor ideas for traditional and contemporary homes.
Fellow stool and Big Fellow decorative pillows are creative and unusual conceptual furniture and room decor accessories, made of real fur, leather and natural wood. Stool cushion and large pillows for floor decoration have an abstract shape that reminds animal skins.
Today real fur and animal skins, that have been used for floor decoration in front of the fireplace for centuries, are replaced by more comfortable contemporary large pillows, made of new and natural decorative fabrics with prints, inspired by animal skins.
Decorative pillows for furniture and floor
Decorative cushions, food inspired designer pillows
Large pillows for floor decoration in front of the fireplace, decorative cushions made of fur and leather
Soft and comfortable, large pillows and furniture cushions, made of fabrics with prints that remind fur and animal skins, are stylish accents that add an exotic flavor and chic to modern home decorating ideas, offering attractive and functional items for eco homes.
Large pillows Big Fellow from Studio Vertijet, www.vertijet.de/ made of real fur and leather. The top part of these decorative pillow covers is made of fur, and the opposite side is made of leather and fabric.
Wooden stool with cushion made of fur and leather, designer pillows and furniture cushions for modern home decorating
Designers suggest to use decorative pillows Big Fellow as floor rugs or large pillows on the floor. Interesting furniture design and decorative cushions can inspire creative craft ideas for making luxurious and very decorative pillows for your home. Large pillows are favorite home decorating ideas for kids bedrooms family rooms and playrooms, Children enjoy furry and soft textures.
Making pillows Pumpkins of decorative fabrics, bright fall craft ideas
Decorative pillow covers Gypsy Romance, craft ideas
Fellow stool also has a soft and comfortable cushion. Fellow stool with a soft cushion and Big Fellow decorative pillows on the floor create an attractive, comfortable and stylish set for modern home decorating. Both items are handmade and unique, excellent for adding striking accents to any room.
Posted: 26.01.2012 by Decor4all