Horse appliques, applied to plain decorative pillows, beautifully transform a bedding set in a children bedroom and add a fun detail to a family room or guest bedroom decor. Animal appliques are a wonderful, simple and attractive themed decor ideas that create unique and unusual decorative accessories for your home.
Sew-on fabric appliques are great for updating the appearance of old decorative pillows, plain pillow covers and bedding sets. Handmade appliques are modern interior decorating ideas that create personalized, interesting and charming designs for any room.
Fabric appliques, inspired by natural themes look harmonious in contemporary and traditional home interiors. Decorative pillows and wall panels can be made small and large, in any shape and color combinations that match, compliment and enhance your home decor.
Handmade decorative pillows with appliques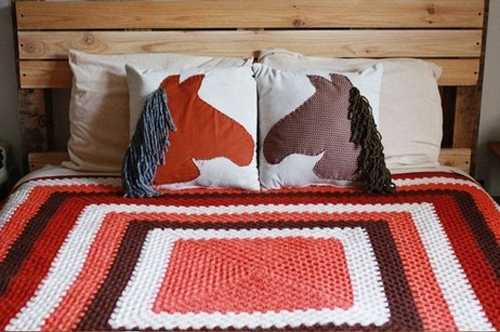 Simple appliques, inspired by insects and animals, are excellent ideas for children bedroom decor. One or two fabric colors are perfect for creating beautiful, bright and stylish decorative pillows, spiced up with creative designs.
These horse head appliques made of fabric and yarn are simple to make. These decorative accessories offer wonderful ideas for recycle crafts. Attached to plain decorative pillows with simple hand stitches, they add color to a bedding set, changing the way the children bedroom looks and feels.
Constellation pillow covers creating unique decorative accessories for home
10 creative fabric appliques transforming plain decorative pillows
Making pillows with fabric appliques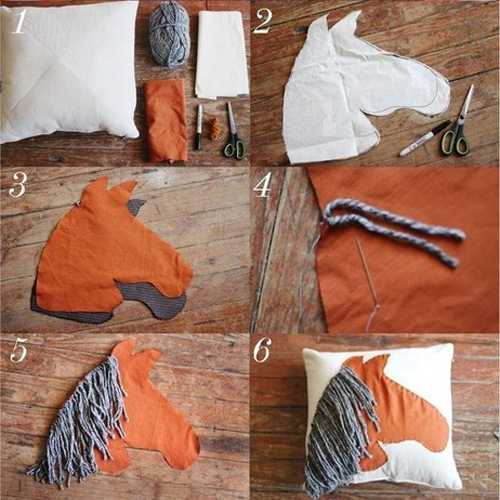 Decorative pillows with horse head appliques are suitable for all kids and can be made by experienced craftsmen and those without much needlework experience, like teenagers and beginners. The thread will be visible on the appliques, so using a coordinating or contrasting color will add additional charm to your decorative pillows.
Posted: 20.04.2020 by Decor4all