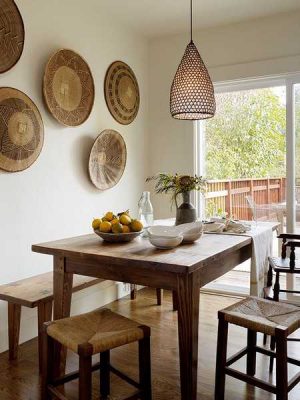 Interior decorating ideas that include natural materials and relaxing neutral colors are perfect for creating modern home interiors in elegant eco-style. Items made of jute are a wonderful trend in decorating that impress with various forms and delight with attractive beige and grayish brown color shades.
Jute is a long, soft, shiny vegetable fiber that can be spun into coarse, strong threads. Interior decorating with jute materials look inviting, informal, but stylish and classy. Produced from plants, unpretentious decor accessories and home fabrics add charm of a countryside home, while enhancing modern interior decorating ideas.
Jute is one of the most affordable natural fibers and is second only to cotton in amount produced and variety of uses of vegetable fibers. Jute interior decorating ideas blend the wonderful natural appeal of wood with flexibility of textile fibers made of cellulose.
Modern interior decorating with jute
Brown colors, wood and jute for modern interior decorating
Raw jute is organic fibers that bring pleasant off-white to brown color shades into modern interior decorating, offering calming and comfortable home furnishings and wall decor.
Combined with other interior decorating materials, jute creates a universal appeal, welcoming feel. styles and tranquil elegance.
Modern apartment ideas, living room furnishings in yellow and brown color shades
Wood and jute light and dark brown color shades, unique home accessories for wall shelf decorating
Here is a collection of interior decorating photographs from Alison Davin that illustrate how to bring the natural decorating theme and neutral colors into modern interior decorating and create beautiful, warm and cozy apartments and homes.
Striped wallpaper for interior decorating in eco style
Modern house design and room decor in eco style by Ryntovt Design
Decorator Alison Davin is an owner of studio Jute, jutehome.com/ All brown color shades, beige, yellow, gray and white decorating ideas are skillfully and attractively blended into modern home interiors in eco style.
Posted: 09.09.2012 by Decor4all