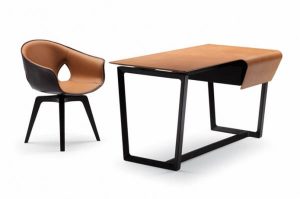 Modern office furniture set from Italian designer Roberto Lazzeroni includes a writing table in black and ginger brown colors and a chair that adds the charm of retro furniture to office decor. The modern  office furniture pieces are created for Poltrona Frau, an Italian furniture manufacture in Turin, that offers elegant and functional furniture designs for modern lifestyle.
Beautiful modern furniture from Poltrona Frau, www.poltronafrau.com/ bring Italian style and timeless elegance into modern homes and offices, creating a comfortable and luxurious atmosphere. High quality materials and exclusive furniture design ideas are for all who appreciate the chic of simplicity.
Made of soft leather in ginger brown color, the table and chair set is a true decoration for office or home interiors. Inviting, stylish and gorgeous office furniture set features strong frames and attractive design materials that feel warm and inviting.
24 retro decor ideas, retro furniture and room decorating ideas in 70s style
Vintage furniture collection from Les Valises, modern furniture for retro decor
Office furniture from Italian designer
Italian furniture for office design, modern table and chair set
Made of high density polyurethane,  this office furniture set is the combination of rigidity, elasticity and seducing softness.
The table and chair make an impressive duo, offering an attractive decoration for office design. Fred and Ginger office furniture set is a nice way to add softness and warmth to office interior design and spice up the interior with a pleasant color.
Modern tale and chair in ginger brown color
 20 Room decorating ideas, furniture and decor accessories for cozy corners
Vintage furniture upholstery fabrics
Leather chair in black andginger brown color
Modern chair design in white and ginger brown colors
Leather chair in black and brown colors
Posted: 25.04.2012 by Decor4all