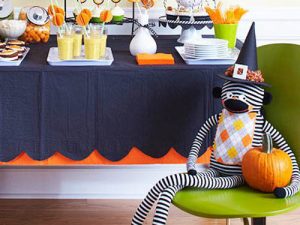 Modern Halloween ideas for kids bring light decorating colors and soft toys, healthy treats and funny images. Halloween decorating ideas for kids create bright party table decor that evokes pleasant emotions. Games and friendly characters create wonderful memories about Halloween party decorations and fun that kids had.
Halloween party decoration ideas that include deep blue color tones instead of traditional black color, feel lighter and friendlier for young kids. Traditional Halloween party decorations in black and orange colors look gorgeous with colorful food and drinks. Youthful and relaxing green color shades, combined with light pink, blue, lavender and lemon yellow colors, add freshness and festive mood to kids Halloween party decor.
The black color can be change to dark blue, green, red, purple or brown colors. Soft kids toys and floor games, simple Halloween crafts ideas for kids and delicious food are highlights of Halloween decorating ideas for kids. Homemade Halloween decorations for kids add even more fun to wonderful holiday. Made of cupboard friendly monsters, dinosaurs, large birds, black cats or favorite kids characters provide great background for pictures.
Creative Halloween decorating ideas
Halloween decorating with pumpkins, Halloween home and yard decorations
Halloween party decorating theme, inspired by Mad Tea Party
Creative, colorful and delicious food, a mix of appetizers, drinks and sweets will create bright color combination for family-friendly Halloween party table decoration.
Start with deep blue, green, red, purple or brown colors, add oranges and incorporate a black details into food, drinks and Halloween party decorations for more traditional look.
Bright orange juice helps set Halloween party scene. Monkey cookies  and muffins add brown color tones, grapes bring green, red and purple colors, creating colorful and cheerful color combination for kids Halloween party table decor.
Table decoration ideas for kids
Kids party table decoration with toys
Spinning kids party table decorating ideas
Polka dot and flowers, party table decoration ideas for kids
Halloween party table decoration ideas for kids
Use colors to design Halloween party table place cards to add colorful details. Prepare colorful small gift boxes with candies and cookies that are great homemade Halloween decorations for your party table. Decorate the treats with frosting, colored sugar and sprinkles to brighten up Halloween party decorating color palette for cheerful and festive celebration.
Fall crafts and decorating ideas for kids
Making fall leaves of paper and home decorating ideas
Making pillows Pumpkins, fall craft ideas
Posted: 18.10.2011 by Decor4all