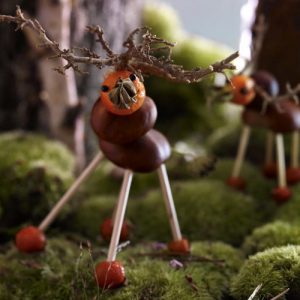 Chestnuts, paired with thin tree branches, are wonderful natural material for attractive and simple decorating ideas for fall holidays, beautiful garlands, decorative wreaths, small table decorations and charming centerpieces. Pretty table decorations and natural materials make home decorating ideas feel friendly and welcoming.
Homemade table decorations and individual centerpieces add charming accents and personality to Halloween or Thanksgiving table decorating. Fun table decorations, made of chestnuts, acorns, pine cones and tree branches, bring comfortable brown colors into decorating ideas for fall parties and special events.
Fun fall crafts for kids and adults, that use natural materials, like autumn leaves, nuts, berries, chestnuts, acorns, pine cones, tree branches, fruits and vegetables, are enjoyable activities and a beautiful way of creating a nice autumnal atmosphere in your home.
Simple fall crafts
Fall table decorations made of chestnuts
Chestnut animals and funny characters are popular fall craft ideas with kids and adults. Making chestnut table decorations is quick and simple. Even beginners and young kids enjoy these easy table decorating ideas. You need chestnuts, thin tree branches, wooden matches ot toothpicks, a knife, glue, feathers or fur pieces and googly eyes or small beads.
You can make chestnut people and animals, moose, deer, rabbit or snake, adding personal and funny characters to Halloween, kids birthday party or Thanksgiving table decorating.
Use one or two large chestnuts for the body and a small chestnut for the head. Make five holes in the chestnuts for two hands, two legs and the head. Put a match or toothpick in each of the five holes to create chestnut animal or small character for your fall table decor.
Thanksgiving table decorating ideas
Thanksgiving table decorating with chinese lantern plants
Thanksgiving table decorating with gourd and pumpkin floral arrangements
Thanksgiving table decorating with candle centerpieces
For the more advanced table decorations and centerpieces, made of nuts, berries, chestnuts, acorns, pine cones and tree tree branches, there are no instructions. Anything goes as long as it is fun for you and your kids. Unleash your imagination and let it run wild.
Creative table decorations
Kitchen table decorations, caps for cups
Table decorations for Fathers Day
Simple table decorating ideas, two diy flower centerpieces
Posted: 15.11.2011 by Decor4all