Summer flower interior trend offers cheerful and tender spring decorating. Soft green and bold pink color combinations and beautiful flowers are the hottest interior trends for spring decorating. Spring decorating is fun and easy, when follow modern interior trends and color combinations they offer. Light and pleasant Summer flower color combination is one of modern interior decorating color trends for spring-summer.
(5 modern interior trends, themes and color schemes for spring decorating)
Modern room decorating ideas are about beautiful flowers and freshness, that Summer Flower color trend brings into your home. Romantic room decorating color combinations include neutral shades, soft pink and green colors. Natural wood tones and elegant light gray with beige add eco style accents to room decorating ideas and create optimistic and light spring-summer interior.
(7 purple-pink interior color schemes for spring decorating)
Natural wood furniture, ceramic and glass vases are perfect for spring decorating, inspired by beautiful flowers that are blooming in a garden and fresh green foliage.
(11+ ways to add green colors to bedroom decor) Bleached wood, light floral fabric patterns and wrought iron accessories make room decorating feel spacious and airy.
Summer Flower interior trend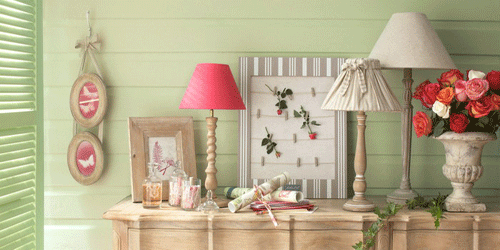 Choosing window curtains, pillows, table cloth and napkins fabrics with floral patterns and making simple wall decorations with floral fabrics are traditional interior trends for spring decorating.
(10 modern simple wall decoration ideas with fabric)
Beautiful wallpapers with romantic floral patterns and fresh, or dried flower arrangements add a romantic touch to decorating ideas for spring-summer season.
Floral cotton and silk cushions make inexpensive, charming and colorful accessories that brighten up room decor. Select them in different sizes and various matching colors to add more interest to your room decor. (Creative furniture decorating with fabric)
Use dinnerware or table cloth with floral patterns or flower shaped plates and bowls to incorporate Summer Flower color trend in your dining room decorating for spring-summer season. Also floral candle holders and napkin rings help draw attention to Summer Flower color trend.
Painting walls pale green color or using beautiful wallpapers patterns with flowers bring a dramatic change to room decorating.
You do not have to fill an entire room with flowers, decorating one wall with spring or summer flowers pattern will add a splash of color and make room decorating ideas more personal, interesting and modern.
Posted: 01.09.2013 by Decor4all