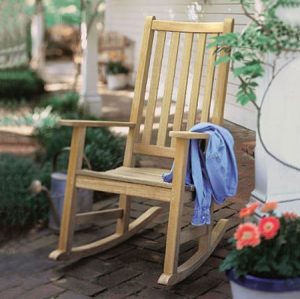 Room decorating ideas that include a rocking chair look inviting, relaxing and familiar. Antique, traditional and contemporary rocking chairs make room decor feel cozy and calming. Everyone likes these functional and always modern furniture items that add comfort, interest and fun to room decorating ideas.
Made of wood and metal, bamboo or plastic rocking chairs are  convenient, practical and stylish furniture that evoke pleasant and nostalgic emotions, making room decorating more interesting and enjoyable.
Rocking chair design ideas vary in style, material, texture, shape and color, offering many different models for any room decorating, including outdoor rooms and home interiors.
24 retro decor ideas, retro furniture and room decorating ideas in 70s style
18 window seat design and interior decor ideas, beautiful window designs
Home decorating with rocking chairs
Black leather chair and footrest made of exotic wood, luxurious room decorating ideas
Traditional and contemporary rocking chairs are great decorations for porches, decks, patios, terraces and balconies. These modern furniture pieces look gorgeous in living rooms and bedrooms, kids rooms and sun rooms, adding unique personality and retro charm to room decorating ideas.
Rocking chairs are great furniture pieces for large bathroom designs, especially for modern bathrooms with sauna cabins and luxurious bathtubs.  A rocking chair in the bathroom corner works as well as a stool or an arm chair, bringing more fun into modern bathroom design.
White living room furniture, white rocking chair design in retro style
A wooden or bamboo rocking chair can be stained or painted to match any room colors. Painting a rocking chair in white or light gray colors is a nice way to create bright room decorating and match your home decor color palette.
Vintage furniture, modern interior decorating with chirs in retro style
Bamboo or wooden rocking chairs in bright colors add bold accents to room decorating ideas. White rocking chairs match the door and window casing in your home, creating harmonious room decorating.
Red and white decorating ideas, red rocking chairs and white coffee table
Natural wood brown colors and green paint tones are excellent for decorating outdoor rooms. Garden furniture in green and brown colors look organic and natural on your balcony, porch, terrace or patio, while bright furniture pieces make wonderful backyard and garden decorations.
Macrame hanging chair Melati, charming backyard ideas
A room corner or an empty wall are perfect locations for an antique, retro or contemporary rocking chair. A rocking chair visually brings a room corner closer to the center of the room, and the corner does not look remote and unattractive.
Rattan rocking chair design with metal frame, white place with wood storage
Woos and rattan rocking chair, outdoor decorating ideas
Two rocking chairs with a coffee table or a planer stand look inviting and pleasant. Two rocking chairs in opposite corners form a symmetrical appeal, enriching your room decorating ideas.
Living room furniture, modern interior trends in sofas and chairs
Rhythmic rocking  is a quick way to relax and calm down the nervous system. A rocking chair  help people distract their upsetting thoughts and relax. A rocking chair is a great for those who have trouble sleeping. Just a half an hour on a rocking chair dramatically relieves stress, relax the mind and body, and prepare for good night sleep.
Bamboo chair design, fireplace and rocking chair for living room decorating
Rocking is a nice way to relax muscles and softly train the back and leg muscles. Accustomed to swinging, people easier tolerate long trips in cars and buses, as well as traveling by air.
Mini togo chairs, playful kids furniture design from Ligne Roset
A rocking chair is a simple and ingenious invention, which continues to delight people. This furniture item is the symbol of relaxing, quiet and cozy room decorating that energizes and harmonizes home decor.
Bamboo and rattan footrest and rocking chair design, ethnic room decorating ideas
Posted: 21.04.2012 by Decor4all