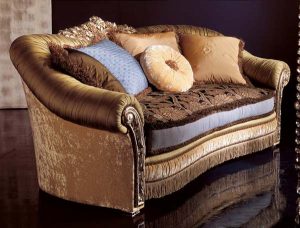 Modern living room furniture design trends bring the fusion of styles, fresh color combinations and unexpected blend of materials, creating striking sofas and chairs. Carved wood furniture and luxurious upholstery fabrics, elegant and simple contemporary sofas and chairs, decorated with unique details, Asian, Indian and African patterns and the combination of classic and bold stylish colors are modern interior trends in living room furniture.
Floral upholstery fabric can be used for large sofas and impressive chairs in classic, ethnic or contemporary styles. Luxurious sofas and chairs in Barocco style, decorated with shiny satin upholstery fabric and carved wood ornaments in golden color come with simple cushions that make modern furniture design less aristocratic or formal.
Wood and chrome-plated furniture parts, leather in soft pastel colors, floral designs and artistic details make modern living room furniture very decorative, luxurious and pleasant.
Fusion of contemporary minimalist and classic home decorating styles
Vintage furniture upholstery fabrics and painting ideas from French designers
Modern living room furniture design
Purple chair for living room from Fendi Casa, modern living room furniture design trends
Soft furniture upholstery fabric in cold colors can be combined with silk brocade pillows in warmer tones, creating amazing combinations of velvet and silk.
Sofas and chairs in classic style are another modern interior trend, offering calming and elegant creamy colors for modern interior decorating. Ethnic design ideas bring Asian, Indian ans African flavors into modern interior decorating with unusual, relaxing and comfortable furniture pieces and natural materials in rich colors.
Floral upholstery fabric in light colors, modern furniture for living room
Ethnic furniture design ideas enhance modern furniture design, making living room furniture items look unusual, comfortable and very decorative.
Modern furniture in Louis XV style, lucurious living room decorating ideas
Beautiful furniture upholstery fabric prints, modern furniture design with vintage charm
Golden colors, deep blue and purple color shades, light gray, champagne and creamy white tones, rich green and reddish-brown colors are modern interior trends in living room furniture.
Futuristic chair made of yellow leather, modern furniture design trends
Metal and wood are combined with leather and pleasant upholstery fabric, creating expressive living room sofas and chairs and celebrating stylish shapes.
Moroccan furniture, decorating fabrics and materials in Moroccan Decor
Modern upholstery fabric prints, living room furnishings
Strong contrasts, created with monochromatic colors, and simple, slightly curved or straight lines are modern interior trends in living room furniture design for traditional and contemporary styles.
Green sofa bed from Zanitta for modern living room decorating
Light colors are favorite for modern interior decorating and furniture design. Upholstery fabric and decorative pillows in light colors allow to emphasize beautiful form and design of modern living room sofas and contemporary chairs.
Transformer furniture for small rooms from Arketipo, contemporary living room furniture in white and brown colors
Wood painted in rich purple, turquoise, reddish-brown or green colors and aluminum,  are used for designing impressive frames and adding unique decorative accents to modern furniture pieces.
Modern sofa and chair designs for living rooms
Posted: 15.02.2012 by Decor4all