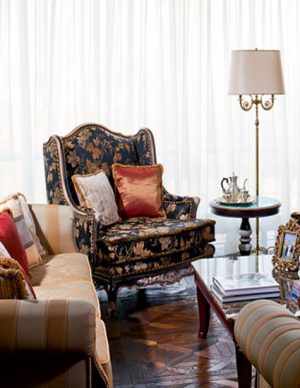 Traditional home decor looks classic and comfortable. Traditional home decorating style is about calm atmosphere and organized interior design ideas. Bedroom or living room furnishings in a traditional home are predictable and consistent. To create modern room decor in the traditional home decorating style you need select dark wood furniture, classic decorative fabrics, and collect room decor accessories that can be placed in pairs for creating symmetry and balance.
Modern room decor in a classic or traditional home feels solid and comfortable for people of all ages. Beautiful home decorating fabrics, classic paintings of still life, landscapes or seascapes, and good quality wood furniture items in almost neutral dark brown colors, instead of contemporary plastic furniture pieces or modern wall art decor, create the elegant look, welcoming feel and unique charm of home interiors in classic traditional decorating style.
Decorative wall panels, that bring more natural wood into modern room decor, wooden floor and marble table tops, beautiful draperies and furniture upholstery fabric in rich colors celebrate the traditional home decor style, adding comfortable chic and old time flavor to modern room decor.
Modern room decor accessories
Art Nouveau home decorating style, beautiful room decor ideas
Modern rug design, contemporary rugs and floor decor styles
Living room colors for all seasons, decorative fabrics and textiles
Modern interior decorating ideas
Bedroom, dining room and living iving room furnishings should demonstrate classic lines, charming curves and pretty details, creating comfortable and relaxing look of beautiful modern home interiors in traditional decorating style. Simple vertical lines, combined with soft horizontal curves, add coziness to furniture design and room decor accessories in a traditional home.
Pleasant home decorating fabrics, furniture upholstery, curtains and cushions with floral designs, stripes or geometric patterns create relaxing and pleasant traditional home decorating style that is neither too bright nor too casual. Gilding and antique bronze, solid furniture design, decorative wall panels, classic paintings, dark brown colors and symmetrical arrangements of room decor accessories add the classic feel to traditional home decorating ideas.
Modern home decorating styles
New 18th century French home decorating ideas
Tuscan home decorating ideas, simple Tuscan decor
French country home decorating ideas
Traditional room decorating ideas
Dark wood furniture stains and traditional crown molding in white and cream colors bring attractive color contrasts into modern interior design, inspired by traditional interior decorating style.
Lacquered dark wood furniture for book storage or displaying vases, collectibles and dinnerware, traditional china cabinets and bright crystal chandeliers, light wall paint color shades and dark brown colors, used for wooden floor, furniture and decorative wall panels, made of oak or walnut, create peaceful home interiors in traditional home decorating style that feel homey, safe and comfortable.
Good quality materials, crystal, marble and aged wood add unique textures to traditional room decorating ideas. Lighting fixtures and mirrors, decorative urns and vases, small decorations and indoor plants, corner cabinets and curtains, placed in pairs create the sense of peace, balance and stability in a traditional home interiors.
Mirrors in beautiful frames, decorated with geometric or floral ornaments and engraving, attractive draperies and soft bedding fabrics, wall sconces and golden finish help create modern bedroom decor look in traditional home decorating style that is stylish and comfortable, elegant and luxurious.
Dark wood bathroom furniture in burgundy and dark brown colors look beautiful with bathroom wall tiles and marble floor, creating a spectacular modern bathroom interior, inspired by natural materials that are typical for traditional home decor style.
Exotic room decorating ideas
Egyptian interior style, modern room decorating ideas
Moroccan decor, Moroccan decorating color schemes
Art Nouveau home decoration ideas, spiced by Indonesian handicrafts
Posted: 11.10.2011 by Decor4all