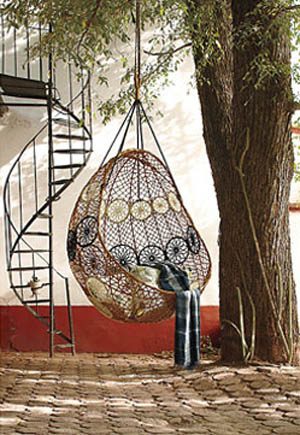 Macrame hanging chair Melati is unusual and charming. A handing chair with simple and elegant floral designs is a modern decoration and a nice way to add unique furniture design and pleasant colors to your room, porch or backyard ideas and create beautiful outdoor rooms or decorating your patio, gazebo or garden in style.
Macrame hanging chair Mealti is an excellent decor item for your sun room or patio. Available for $498 from Antropologie, unique and pleasant chair will look great in kids rooms and bring more fun to your summer cottage design.
Knotted hanging chair design allows to enjoy the beauty of natural landscape, warm sun and fresh air, while reading, knitting or just relaxing under the tree in spring, summer and fall.
Outdoor garden decorations made of old wooden ladders
15 charming decorating ideas for balcony, spring decorating ideas
Macrame chair design, hanging chair for backyard decoraitng
Very attractive and cozy, this hanging chair design is a way to add amazing macrame motifs in classy neutral colors, perfect for creating a calming look. Modern furniture design in bright tangerine or blue colors add a bright decorative accent to outdoor rooms design or interior decorating make it look more vibrant.
One or few chairs make beautiful home or garden decorations, whether hanging from a beam in the room or on your porch, or from a tree in your garden.
Macrame chair in bright pink, orange and yellow colors
Hanging chair design offers lots of fun and relaxation for kids and adults. Playfully swinging with a refreshing drink or a book in hand  feels relaxing. This beautiful knotted hanging chair promises good time.
Backyard ideas, Tuscan decorating style
DIY backyard ideas, inspiring and simple water fountain designs
Posted: 08.04.2012 by Decor4all