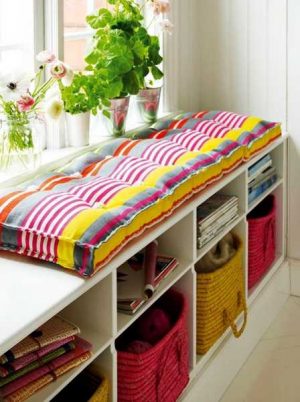 Window seat with soft cushions and beautiful curtains improve interior decorating, adding more functionality and comfort to room decor. Efficiently used small spaces beside windows, building window seats and decorating them with attractive home fabrics add cozy places to rooms and make them inviting and pleasant. Bright and soft window bench cushions bring color and interesting prints into interior decorating, creating welcoming and charming places to relax and dream.
Small spaces should not be wasted. Use them for practical built-in window bench with storage and cushions, and add fabrics to your space saving interior decorating, improving and enhancing kitchen, bedroom, living room or kids room decor. Modern interior decorating ideas and decorative fabrics create warmth and comfort around a window seat.
A window seat in a small dining room or kitchen is a great place for storing tablecloth and napkins sets for special occasions and holidays. A window bench seat with storage in kitchen is perfect for storing bulky containers that you do not use every day.
 Interior decorating with window bench cushions and curtains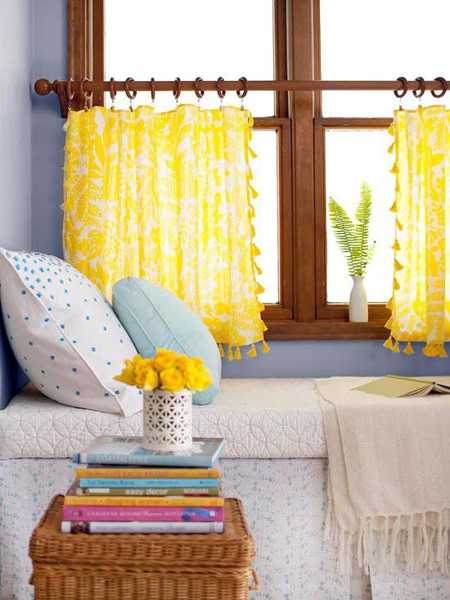 Even a very small niche of the window allows you to design a compact and comfortable window bench with cushions and storage, hiding a heater or decorating an empty corner, and emphasizing appealing interior decorating ideas.
Inside this window bench with storage you can keep a lot of things, – toys, blankets, books, knitting yarn, art and craft supplies and even off-season clothes and footwear, saving valuable storage spaces in your closets. You can build a window bench with storage of wood or recycling old bathroom or kitchen cabinet, adding a unique touch to your interior decorating.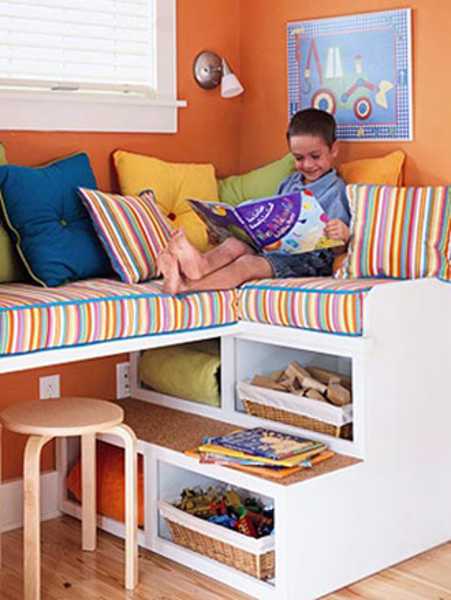 Everyone loves window seat bench with cushions. It becomes the favorite place in the house. A window bench with cushions and curtains is incredibly effective, convenient, comfortable and functional idea for fabulous, personalized and space saving interior decorating.
18 window seat design and interior decor ideas, beautiful benches with storage and cushions
How to create modern window decor, 20 window dressing ideas
A window seat bench with storage is a perfect solution for both small homes and apartments. A beautiful window seat, an upholstered bench with cushions, looks great in small rooms and spacious homes, creating a welcoming and romantic detail of interior decorating. It is an especially dramatic detail of room with a spectacular view.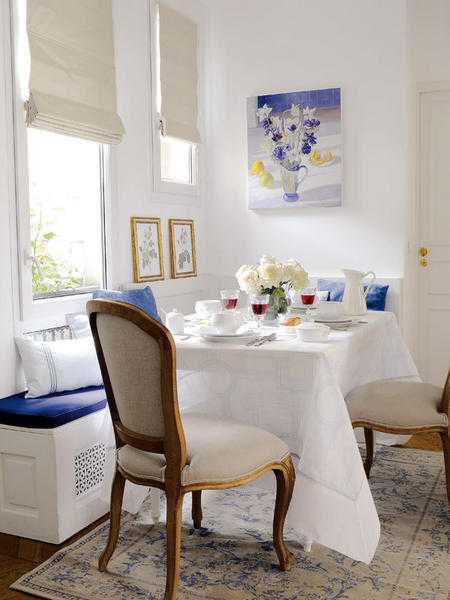 A window seat bench with cushions provides a convenient extra seat, that delights your guests and adds more charm to your interior decorating with soft and beautiful decorative fabrics. A window bench with cushions is aesthetically pleasing. A window bench with storage that features shelves or baskets for magazines, books or toys, add organization to interior decorating and give a neat look to your room decor.

Posted: 13.11.2012 by Decor4all