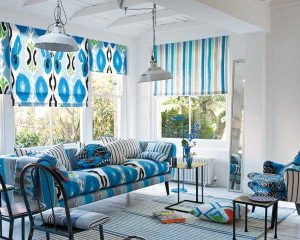 Window dressing is an important part of creating modern interior design and enrich living space and add attractive details to room decor. The right window treatment ideas look harmonious and beautiful, adding charm to functional window decor and designing pleasant and stylish rooms with warm, inviting and comfortable atmosphere.
Window decor that supports the room decorating style and color palette looks natural, while offering practical and functional window treatment designs. Many different window dressing ideas make it is possible to select the perfect window treatment designs for your rooms.
A variety of window accessories, textures, fabrics, window dressing styles, color combinations make the task not so easy, but they provide many possibilities to create original and practical modern window treatments for your practical and personal room decor.
Blue window shades and sofa upholstery fabric with ikat pattern and stripes, modern living room design in white-gray-blue colors
4 stylish ways to create modern window decor
Roman shades are a good alternative to traditional window curtains. These window treatment designs are practical and functional, and add fabric panels to room decor which soften modern interior design. When opened, Roman shades showcase beautiful horizontal folds at the top of the window opening, enriching your room decor with texture and color. These modern window treatment designs can be of different lengths. Roman shades look very interesting, elegant and stylish.
Window blinds are simple and practical contemporary window decoration ideas. These window treatment designs do not extend to the sides, allowing more wall space for your interior design. Window blinds made of transparent and semi transparent material gently diffuse the light, adding lightness to room decor. Window blinds are very comfortable and functional, very easy to handle, and great alternatives for kids room decorating or home office design.
Sliding window shades in bedroom, contemporary window treatment design
Window blinds are stylish alternative that make modern home interior design feel youthful and fresh. Horizontal, vertical, made of fabric or plastic, aluminum or wood, window blinds are available in many colors and textures. These versatile window treatment designs, vertical or horizontal, are suitable for any interior design style and can be attractively incorporated into existing color palette, emphasizing your room decor. For particularly demanding customers there are exclusive custom made window blinds models with unique decorative elements, inserts and patterns.
Window treatments, modern blinds for inclined roof windows
Kitchen curtains, smart window treatment designs
Japanese curtains are one of latest modern interior design trends. Japanese curtains are elegant and stylish, perfect for creating contemporary window treatment designs. These window curtains are flat panels of decorative canvases that slide on guides. Japanese window decor ideas are easy to use, functional, practical and original, and add an exotic flavor of oriental interior design to your window decoration.
Floral kitchen curtains, charming window dressing ideas
Light window curtains and draperies are beautiful alternatives to classical window treatment designs. They make window dressing look artistic and exclusive, bringing matching or contrasting colors into interior design and enhancing your room decor with stylish patterns. Various types of curtain fabrics and color combinations allow create truly personal and exquisite window dressing ideas. Multiple layers of curtain fabrics, depending on the choice of fabric colors and texture, can create an atmosphere of luxury and make a strong statement.
Posted: 21.09.2012 by Decor4all