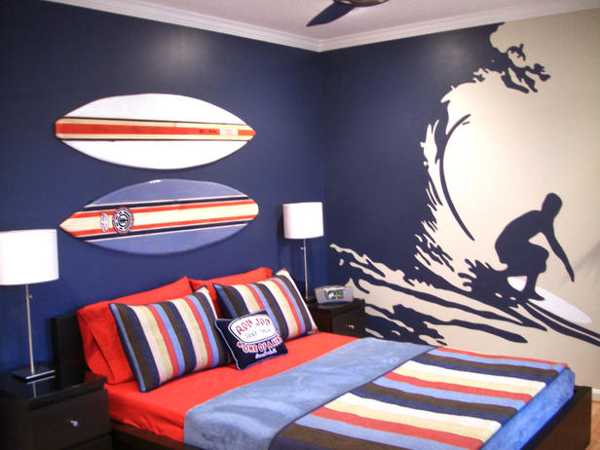 Bedroom decorating ideas for sportsmen that include a creative bed headboard and wall decorations, turn ordinary interiors into pleasant and relaxing retreats with sport themed decor. There are modern wallpaper designs and bedding patterns that celebrate the life of a sportsman. Soccer and hockey, American football and rowing, baseball and wave surfing, hunting or fishing themed decor will make a man in your life or your teenager very happy.
Bringing the sports gear into your home is a simple bedroom decorating idea that might look strange at first. You can create an unusual bed headboard and decorate an empty wall with these items, creating beautiful and unique bedroom decor for a sportsman.
You can hang up all sort of things on the wall. Sports gear in vintage style look especially stylish, adding personality to exclusive bedroom decorating ideas. Sports gear look nice, like a bow and arrow or skies and skates. Bedding patterns can attractively support your bedroom decorating theme, bringing dynamic color combinations into room decor.
Cozy bedroom decorating with gray colors by Blalank Studio
Colorful bedroom decorating ideas by graffiti artists
Bedroom decorating ideas for sportsmen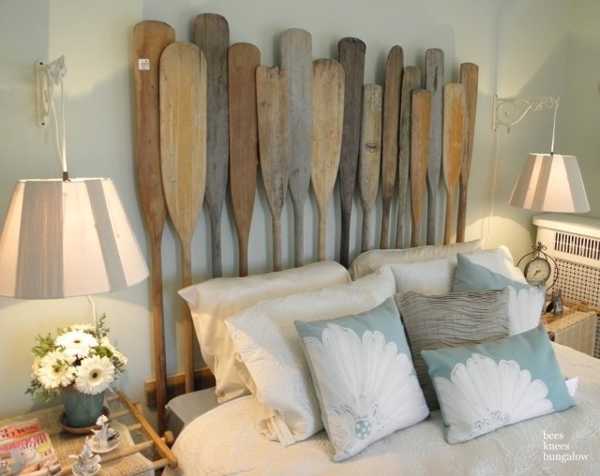 A sportsman would like bedroom decor that reminds of a lodge or a castle. Dark rich room colors, rustic elements, salvaged wood, trophies collections and original wall decorations make bedroom decorating fun and pleasant.
Modern bedding sets in deep colors, like forest green, navy blue, wooden brown and maroon are excellent for creating comfortable bedroom decorating for a man.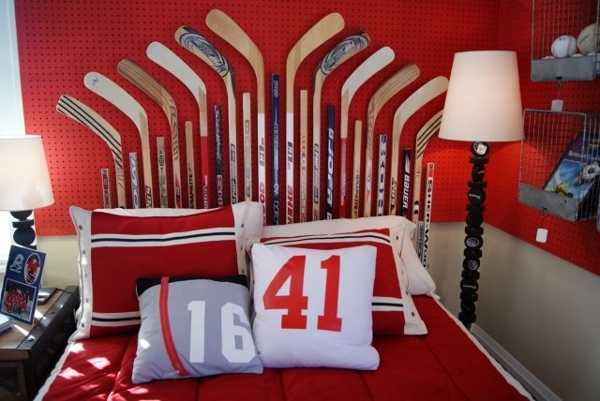 Hunting, fishing or sports gear make nice decorative accents. Wooden furnishings , combined with modern bedding, lighting and meaningful accessories create beautiful themed decor and make bedroom decorating look exclusive and very personal.
Themed decor ideas
Nautical bedroom decor, bright colors, fun decorating ideas for kids
Music themed decor ideas for creative teenage bedroom decorating
Posted: 27.11.2012 by Decor4all