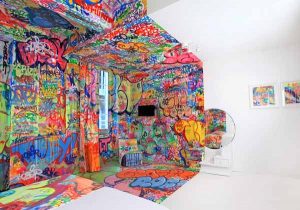 Unique interior decorating and painting ideas by graffiti artists looks bold, interesting and surprising. The hotel Au Vieux Panier in Marseilles is located in an old building. Amazing interior decorating and bright colors turn the 17th century Guest House with five rooms into an exclusive hotel in Marseilles, France.
Each guest room is decorated by a different graffiti artist. Every year a new artist refresh the room, decorating bedrooms in unique, bright and impressive style. The Panic Room is one of the hotel bedrooms, decorated by graffiti artist Tilt Toulouse. Also graffiti artists Tober, Grizz and Don Cho helped to create amazing bedroom decorating.
The bedroom is separated into two parts: one is decorated in white color, while the other features bright graffiti art on the wall, floor, ceiling and furniture.
Urban Cabin, country home decorating ideas inspired by Tarsila paintings
Latest wallpapers from Italian WallDeco, modern wall decorating ideas
Bedroom decorating by graffiti artists, hotel room painting ideas
Bedroom decorating ideas look quite extraordinary, offering unique and unforgettable experience to the hotel guests.
Hôtel Au Vieux Panier,  +33 (0) 6 32 19 90 05
http://www.auvieuxpanier.com
13 rue du Vieux Panier, 13002 Marseilles
Unusual, bright and colorful hotel room furnishings and painting ideas
The artist spend an entire week for painting and decorating the Panic Room. According to the graffiti artist the white half of the bedroom emphasizes the idea of chaos, reflected in colorful and extensive interior painting.
Modern interior design with French chic, exquisite room decorating ideas
Modern interior design trends inspired by patchwork fabric
Posted: 08.03.2012 by Decor4all