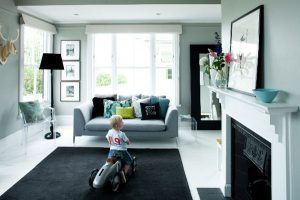 Black and white decorating ideas bring dramatic transformations into old house rooms, creating fresh and airy home interiors with light and spacious feel. Old house interiors, decorated in black and white look interesting and warm with wood furniture, green house plants and colorful accents in bronze, golden, green or red colors.
Black and white paint colors create dramatic home interiors that appear classic and elegant. White home furnishings, furniture and decor accessories, – curtains and vases, planters and towels, –  add to clean and fresh atmosphere.
Black and white paint colors work well for brick walls and kitchen cabinets, ceiling and furniture, decor accessories ad floors, creating sophisticated charm and luxurious interior design from Jessica Helgerson, www.jhinteriordesign.com/
Black and white decor, 18 modern interior decorating ideas
Bedroom wallpaper in black, white and gray, one wall decoration
Black and white decor, living room with green color accents
Black and white rooms from Jessica Helgerson
Off white color tones, light gray and creamy colors, combined with stainless steel appliances and glass lighting fixtures look gorgeous and exclusive, emphasizing traditional home design in classic style.
Black and white room decorating ideas invite bright color accents. Black and white decorating, combined with golden colors of wood furniture and green house plants create a beautiful blen that is easy to live with.
White kitchen decorating ideas, glass lighting and stainless steel appliances
White kitchen cabinets and dining furniture, red color accent
Black and white rooms are excellent for all who like striking and balanced, bright and modern home interiors in neutral colors.
Black and white rooms with splashed of red color, black-white and red rooms
Scandinavian house, white decorating ideas, attic penhhouse in Sweden
Colorful decorative accents, like green or red cushions, vases, curtains or wall artworks, – are a great way to add more interest to a neutral decorating color combination.
White home decorating, wood and green house plants
Black and white paint colors, wooden dining table and white chairs
More ideas for black-white decorating and color accents
Posted: 12.04.2012 by Decor4all