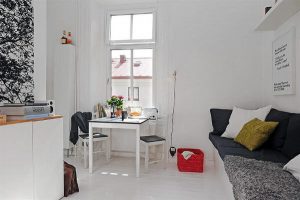 Black and white rooms with splashes of bright color feel cheerful and interesting. Red color accents add dynamic details, energizing neutral room decorating color scheme. White and black rooms with pops of color look bright and playful, offering comfortable and modern home interiors for work and rest.
White paint colors work well with any room decorating color scheme, creating perfect background for colorful interior decorating or room decorating in neutral tones and splashes of color. Light purple, pink, orange, yellow, green, blue or red color accents look especially bold and impressive with white paint colors and black furnishings.
You can add one bold color to black and white rooms and create more interesting decor or give colorful touches of two-three colors, bringing charming accents that will emphasize the elegance and classy look of black and white rooms.
Modern wall decor ideas, lace fabric and doily patterns in black ad white
Bedroom walpaper in black-white and gray, one wall decoration
Dining room decorating with pinkish red chair, black-white and red rooms
White paint colors, combined with black and white home furnishings and red color accents, are a good choice for those who are not sure they are ready for painting their walls a saturated color. Here are few successful white-black-red rooms from Scandinavian designer Jessica Gustafsson.
White paint, black ad white room furnishings increase the space visually. Wood adds warmth and sunny golden color shades to light interior decorating. Blue, green or red color accent look striking and pleasant with mostly black and white home decorating.
Black and white decorating ideas, Swedish apartment ideas
Decorating with red color accents takes confidence and a sense of style. Black, white and red rooms are a nice way to make a bold statement. while creating bright and airy interior decorating with easy-to-live color scheme.
Blackboard paint, DIY modern furniture decoration in black and white
Contemporary white home decorating ideas
Black- white and red color combinations look very attractive, warm and festive. Black and white decorating feel classy and sophisticated. Black-white and red colors feel dynamic and intense.
Black-white and red rooms, white paint colors, black and white wallpaper and red stool
Not all black-white-red rooms, decorated by Swedish designers from Alvhem, www.alvhemmakleri.se/ use the two colors in the same manner, intensity or proportion. Each black-white-red room decorating idea creates the balance in its own unique way.
Black and white interior decorating with red accents from Flatt Studio
Black and white decor, 18 modern interior decorating ideas
In some black ad white rooms, red color accents are sparingly used to juzz up neutral interior decorating, while in others golden colors, blue and green color tones create bright and stimulating color combination.
White decorating ideas, modern bedroom with blue and red accents
Whatever be the ratio of usage of red color in black and white rooms, the Swedish designer created beautiful, stylish and elegant black-white and red rooms.
White kitchen cabinets with wooden top, black and white decorating and green and red accents
Posted: 12.04.2012 by Decor4all