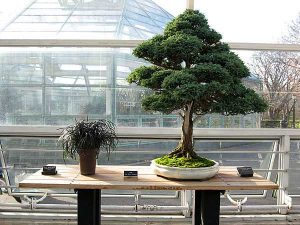 Bonsai trees are beautiful home decorations, perfect for creating beautiful and unusual, interesting and modern interior decorating with Asian flavor. Bonsai means planted in a container. Miniature trees growing in small containers are a gorgeous element of oriental interior decorating style.
Modern interior decorating with bonsai trees look exclusive and peaceful, bringing the unique Asian art, derived from an ancient Chinese horticultural practice and influenced by Japanese Zen Buddhism. Bonsai plants connect modern interior decorating with ancient Asian interior decorating traditions, blending history into contemporary design.
Interior decorating ideas, spiced up with miniaturized but realistic representations of nature in the form of small trees feel harmonious and peaceful. Bonsai plants are not genetically dwarfed plants, any tree can be used to grow bonsai and create relaxing atmosphere of Asian decor.
Plants and flowers in old shoes and boots, 20 creative garden decorations
Vertical gardens and backyard ideas for spring decorating
Room decorating with bonsai plants
Growing miniature tree that adds Asian decor flavor to modern interior decorating
Pinching buds, pruning and wiring branches are used to limit and redirect healthy growth. Usually bonsai trees are kept under four feet (or about one meter) in height, adding miniature home decorations to modern interior decorating with exotic Asian flavor.
Plants with small leaves make designing attractive compositions easier, but any plant with a woody stem or trunk and branches makes a perfect bonsai for outdoor or interior decorating. Attractive, elegant small containers that restrict roots growth and food storage capability, are excellent decorative accents for designing calming rooms or oriental interior decorating.
Contemporary bedroom decorating with bonsai tree
Modern interior decorating with bonsai plant
The wonderful thing about interior decorating with bonsai plants, that most of native plants can be grown outdoors, when you decide to change the mood in your room or switch to different home decorating style.
Table centerpiece idea, tall flower arrangement in small glass vase
11 + ways to add green color to bedroom decor
Adding a house plant is a great way to lift a room scheme. If you enjoy Asian interior decorating ideas or looking for very different interior design, then a bonsai tree is an excellent way to add exotic flavor of oriental interior decorating to your home.
Bonsai plants bring calming atmosphere and class into modern interior decorating. Growing a bonsai is a great relaxing hobby. Carefully trimming  miniature branches to resemble the outstretched silhouette of large trees, help relax and enjoy this peaceful activity.
Posted: 07.09.2012 by Decor4all