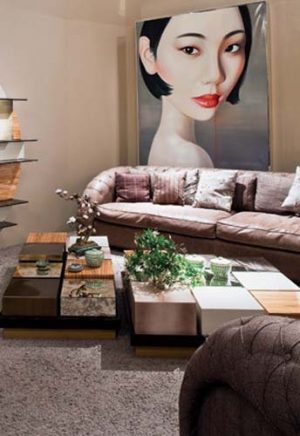 Oriental interior decorating ideas are one of modern decor trends. Chinese and Japanese interior decorating in neutral and brown colors, low furniture and Asian accessories add exotic flavor to modern home interiors and create pleasant and comfortable rooms with unique furniture and accessories.
Modern oriental interior decorating ideas look fresh and unusual. The interest in Asian interior decor is raising today again, creating demand for Asian furniture and accessories, wall art and decorative fabrics, made in China, Japan and Indonesia.
Italian company JC Passion offers their artistic interpretation of Asian style and modern oriental interior decorating ideas that can dramatically transform home interiors, adding exotic charm of ethnic style.
Art Nouveau interior decorating ideas, spiced with Indonesian handicraft
Creative oriental interior decorating ideas, modern Asian interior furniture from JP Passion
Centuries ago it was prestigeous to have a special room in the house or a small tea house in the garden in Chinese or Japanes style. Asian interior decorating makes modern homes look luxurious and exclusive today also.
Here are a creative interpretation of Chinese traditions and modern oriental decorating ideas for Western homes that add chic and unique ethnic character to contemporary rooms in Chinese style.
Asian interior decorating style, furniture and accessories
Chinese and Japanese interior decorating ideas include wall paint, carpet on the floor and furniture in neutral or light brown colors. Modern wall shelves shaped as a circle, low tables, sofas and chairs reflect the traditions of Chinese and Japanese interior decorating styles.
Exotic ikat pattern, modern interior decorating trends
Colonial style house, modern interior decorating ideas
Oriental interior decorating styles are perfect for people who love to travel and appreciate unusual interior decorating ideas. Functional wall shelf for displaying unique collection of oriental items and comfortable furniture are parts of pleasant contemporary interior decorating in Asian style.
Artistic interpretation of oriental interior decorating style, Asian interior decorating for modern homes
Posted: 23.12.2011 by Decor4all