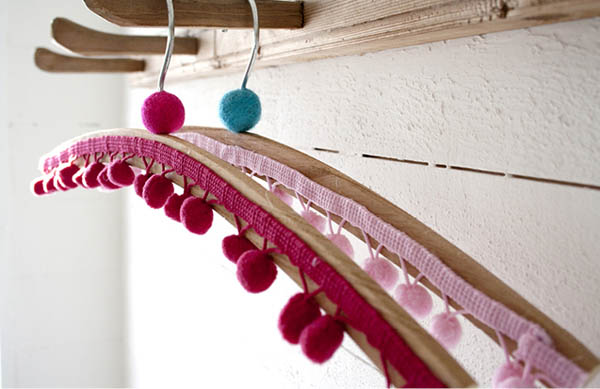 Crafts and cheap home decorations, colorful closet hangers

Colorful Crazy Hangers are a nice recycling and decorating ideas that will help add unique character to your closet and get rid of clutter that take your valuable storage space. Old ribbons and beads, pieces of lace fabrics and fringes, buttons and paint leftovers can be used for this creative and fun kids craft projects.
Old unappealing wooden hangers or those you can buy on flee market can be transformed into lovely accessories for your closet. Dull and boring hangers can be painted bright colors or your can choose a complimenting color palette to add elegance and charm to your clothes storage spaces.
Colorful hangers, decorated with old ribbons, beads, pieces of lace fabrics, fringes or buttons are fantastic craft ideas for kids and adults and a creative way to add an artistic touch to your closet design.
Simple fall crafts and home decorating ideas, chestnut table decorations
Glass bottle decorating, craft ideas and table decorations
Recycling old wood hangers for colorful home accessories
Crafts and cheap home decorations, colorful closet hangers
Many people like to make crafts with kids, but find it hard to get started. Colorful hangers are an excellent recycling and decorating ideas that even small kids will enjoy.
Fun and easy craft ideas from Pysselbolaget craft company, pysselbolaget.se/ do not require any special knowledge, equipment, skills or talents.
Simple kids crafts for decorating closet hangers
Simple and easy to make colorful hangers can vary in design, shapes and colors, creating unique, functional and bright home accessories for your kids closet.
Your creativity and a little of time, spent with your kids, are all you need to make these gorgeous closet accessories and teach your kids to reuse and recycle old items, while getting rid of clutter and beautifying your home decor.

Posted: 01.06.2012 by Decor4all