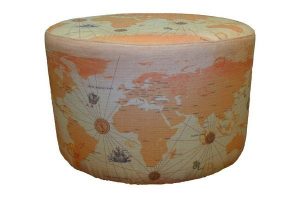 Pouffles is a creative collection of colorful and unusual poufs and ottomans from Australian-American designer Ainslie for creating unique, interesting and modern home interiors. Convenient poufs and ottomans, made of upholstery fabrics with unusual prints, are perfect furniture design ideas for decorating small spaces in style.
The unusual poufs and ottomans from Pouffles set are functional and comfortable furniture items that provide additional sets and can work as coffee tables for contemporary living room design.
Wonderful for decorating small spaces, poufs and ottomans, made of upholstery fabric with prints, are a nice way to bring a unique pattern and color into modern home decor.
Modern upholstery fabric prints for living room furnishings, designer fabrics
World map decorative fabric prints for poufs and ottomans
Creative poufs and ottomans are bright decorative elements, that can add a unique flavor, dramatically changing room decor.
Poufs and ottomans, combined with pillows, made of matching fabric, offer gorgeous functional and decorative accessories for creating interesting, pleasant and personal home interiors.
Contemporary ottoman, made of upholstery fabric with print, inspired by cityscape
Pouffles are comfortable seats and convenient furniture items for small spaces that make rooms more functional and stylish.
Beautiful furniture upholstery fabric prints, modern vintage furniture
Vintage furniture upholstery fabrics and painting ideas from Moissonnier
Attractive poufs and ottomans, pleasant colors and creative upholstery fabric prints, inspired by maps of London and Paris metro, world maps and cityscape, the periodic table of elements and algebraic formulas, that look very unusual and interesting, can be purchased from American company Aroopy for $125.
Unusual poufs and ottomans for modern room decor
Posted: 18.01.2012 by Decor4all