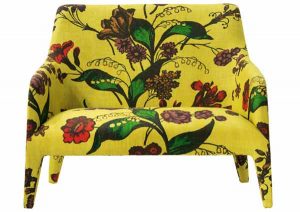 Fine furniture upholstery fabrics and colorful fabric prints from Australian designers look bright and colorful, making a strong statement and creating cheerful atmosphere in the living room. Australian-made armchairs and sofas and vintage furniture from IKEA with floral upholstery fabric prints feel comfortable and pleasant.
Simple linen upholstery fabrics are offset with exuberant floral upholstery fabric prints by Christopher Farr, Tord Boontje, Edvard van Vilet and Marcel Wanders. Warm and inviting colorful decorative fabrics bring sunshine into modern home interiors and add radiance to vintage furniture and room accessories.
A play of pastels for slip covers that are pulled over the framework and secured with buttons, make a sofa and ottoman collection by Edward van Vliet look elegant and welcoming.
Vintage furniture upholstery fabric prints
Bright yellow chair with floral upholstery fabric print, vintage furniture design
Two-seater sofa in Dottevik Red from IKEA is a bright and creative furniture design that bring energy and fun into modern interior decorating.
Vintage furniture upholstery fabrics and painting ideas
Modern upholstery fabric prints, designer fabtics for living room furnishings
The sofa with Eyes of Strangers cover is an eye-catching feature design, created by Marcel Wanders.
The vintage sofa in Rough Rose has a heavyweight linen upholstery fabric that gets a face lift with a modern floral fabric print.
Vintage furniture design ideas, small sofa upholstery fabric with floral print in dark blue and white colors
The ottoman in Toile Nero is a super comfortable furniture design that has a handle for easy portability.
Fine vintage furniture and decorative accessories for retro decor
Modern dining chair covers for retro decor
Simple repetition of a pattern comes to life in the crisp blue and white Block Printed Floral Retro chair in indigo-white color combination.
Beautiful vintage furniture fabric prints
Posted: 19.12.2011 by Decor4all