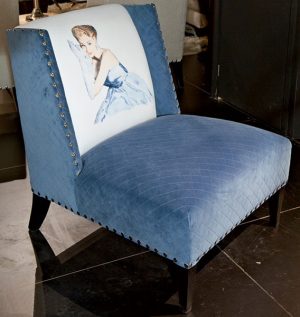 Modern upholstery fabric prints are an important part of interior decorating that reflect stylish furniture design trends, influenced by contemporary technology. Decorating with fabrics prints on furniture upholstery is a nice way to make interior decorating unique and interesting, personal and stylish.
Modern upholstery fabric design is enriched with contemporary printing technology, creating five trends in fabric prints that make furniture look retro modern and exclusive. Cityscape and national flag decorating themes, old letters and famous people portraits, comics and floral upholstery fabric print ideas are modern trends in upholstery fabric prints.
Vintage furniture upholstery prints look charming, offering a unique way to reflect your personality and create gorgeous room decor. Photo printing for wall decoration and creating beautiful fabrics prints create intimate and modern interior decorating in retro style.
Modern living room furniture upholstery fabrics
Modern trends in decorative fabrics
Modern furniture upholstery in patchwork fabric style
Modern furniture upholstery fabric prints, designer furniture for living room furnishing
Modern upholstery fabric prints
The printing works of Parisian designer Jasmine Teo, www.teojasmin.com/ decorate everything, walls, pillows, bags and furniture. Modern upholstery fabric print looks very impressive, when it is combined with classic form and elegant furniture design.
Retro modern designer fabrics add charm to classic sofa design, blending contemporary fabric print technology with old traditions and classic furniture design. Furniture upholstery fabric prints, like skyscrapers, cityscape, national flag, portrait, old letters, comics and floral upholstery fabric print ideas, create striking furniture design in the combination with classic forms.
Modern living room furniture upholstery fabrics prints in classic black and white colors are elegant and attractive. Skyscrapers and cityscape fabrics prints bring contemporary accents into living room furnishing, while bright national flag colors create an eye catching focal point of modern living room design. Classic and elegant sofas from modacollection, www.modacollection.it/ have softly curved lines and look retro-modern and impressive.
The stylish combination of floral upholstery fabric print with coordinating furniture upholstery fabrics in solid colors are offered by Italians furniture designers. Modern and creative design fabrics collection bring modern textures, rich colors and vintage fabric prints into modern sofa design.
Designer fabrics with famous people portraits, old letters and comics or floral upholstery fabric print ideas look fresh and modern, creating interesting and unusual interior decorating with retro style flavor.
Decorating fabrics colors for modern living room
Coordinating home furnishings with fabric prints
Coordinating new sofa upholstery fabric with existing home furnishings is important for balancing interior decorating, while adding unique character to modern living room design in retro style. Mixing and matching decorating fabrics for sofa and chairs creates stylish living room that is truly your own.
Coordinating upholstery fabrics in solid colors, used for ottomans, drapes and decorative pillows, bring balance to living room design and enrich interior decorating with different textures and matching colors. Ottomans, drapes and decorative pillows in solid colors bring attractive color contrasts and create harmonious living room design.
Black and white sofa upholstery fabric prints make it easier to coordinate living room furnishings. Similarly colored solid upholstery fabrics are another way to emphasize beautiful designer fabrics and balance living room design.
Ideas for modern interior decorating with fabrics
Creative furniture decorating with fabrics
Posted: 19.12.2011 by Decor4all