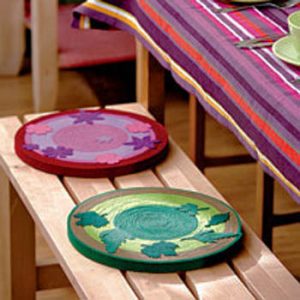 Handmade felt cushions for stools or garden benches are wonderful craft ideas for spring decorating. Eco friendly felt adds warmth to seats, making them look inviting. Bright colors and creative designs, inspired by spring decorating theme, give modern comfort and unique character to your balcony, deck, porch, garden or patio design.
Soft and pleasant cushions can be used in cold arenas when you watch your kids playing hockey or ringnette. Handmade felt cushions are light, and you can take them anywhere for a picnic, making yourself and your kids more comfortable outdoor.
It feels so nice to sit with a cup of coffee on your balcony or porch at night or in cool morning, Warm and pleasant felt cushions are small decorations that dramatically change the experience.
Table decorations, charming table decoration with fabric
Making pillows Pumpkins of decorative fabrics, bright fall craft ideas
Handmade felt cushions
Craft ideas for spring decorating, handmade felt cushions for stools or garden benches
Cut strips of felt fabric in your favorite color and roll them. Use glue to for stronger design. Make a round cushions as large as your you need, decorating the cushion with floral designs, butterflies or leaves.
Look at the pictures that show hoe to connect strips together. Use fabric glue for creating perfect cushions without gaps.
Making round cushions of felt strips, creative crafts for home decorating
Use eco friendly felt fabric at least 4 mm or 1/4 inch thick and add strips in different colors for creating bright and cheerful round cushions.
Creative furniture decorating with fabric
10 simple wall decoration ideas with fabric
Create simple decorations, like leaves, butterflies, simple geometric shapes or flowers, and adorn round cushions, adding a personal touch to beautiful accessories for spring decorating.
Handmade felt crafts for spring decorating, simple cushion design for stools or garden benches
Ideas for making decorative cushions of felt fabric
Posted: 23.04.2012 by Decor4all