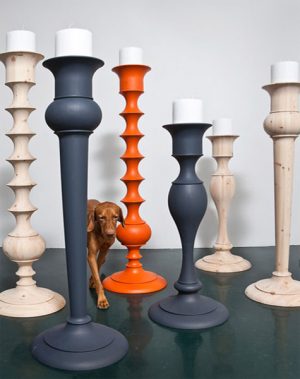 Giant pillar candleholders, made of wood are functional and very decorative home accessories that will help create festive atmosphere, offering unique and bold floor and table decorations. Large candle holders from the Holy collection come in bluish gray and bright orange colors and various sizes to suit any room decor.
Small and large Holy candleholders are designed by Anki Gneib. These amazing decorative accessories in classical shapes bring retro charm into modern rooms, while stylish color can emphasize contemporary floor and table decor.
Impressive Holy candle holders are made of solid wooden pieces and available in a natural finish also, that will add Scandinavian flavor to your room decorating.
Eva vase by Iron Retting, functional and decorative accessories for small homes
Decorative home accessories, Showtime Vases
Room decorating with Holy candle holders
Holy candleholders made of wood and painted bluish gray and orange colors
The mix-and-match set of gorgeous small and large candle holders  are perfect for striking table centerpieces. Large candlesticks may serve as unique floor decorations also.
Adding giant candleholders to your table decor or decorating the floor with few candlesticks in different sizes are a nice way to make a strong statement and design fabulous and personal room decor.
Holy candleholders made of natural wood, unique candlesticks come in natural finish, gray and orange colors
Holy candlesticks embraces the Scandinavian traditions of worship and the importance of illumination during long Nordic winter nights. Magical glow of candles add warmth and coziness to modern room decorating.
Dining room decorating with candles
Nautical decor, Candle Sail set from Roman Ficek
Candle centerpiece ideas, table decoration with fall leaves and candles
Holy candlesticks by Anki Gneib were presented during Stockholm Design Week.
Posted: 17.02.2012 by Decor4all