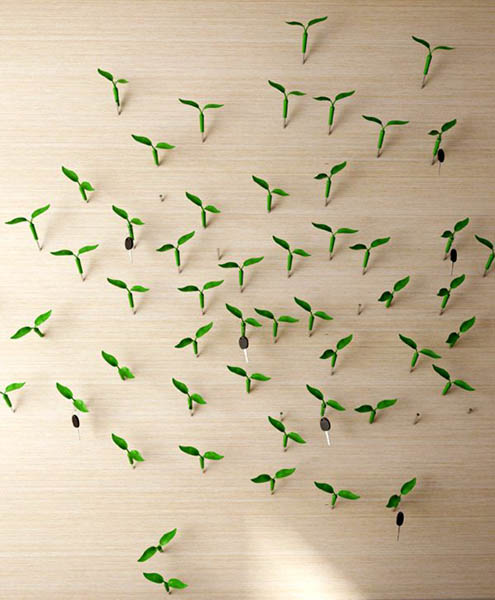 Nail Leaf Covers for modern wall decoration

Leaf Cover which gives new life to lacking any interest empty or dead wall spaces is made of green silicone and looks very natural and organic. Leaf Cover for nails, inspired by young green plants, brings vitality, fresh design and pleasant green color to wall decorating and offer simple and charming home accents for your rooms.
Wall decorating with the images of green plants growing out from the wall is creative and unusual. Green sprouts on the walls or furniture add beautiful details to wall decorating ideas and room furniture design, creating attractive and inviting home decor.
If you concern about ugly nails on your walls, green Leaf Cover from South Korean designer Jung Hwajin, www.junghwajin.com/ is a great solution for hiding nails and making your room decor look green and pleasant.
Bird image for wall decoration, modern wallpaper, stickers and painting ideas
10 modern wall decoration ideas with fabric
Modern wall decorations inspired by nature
Leaf Cover is an elegant way for hiding nails, offering organic, surprising and interesting wall decorating ideas that you and your family members can experiment with and enjoy.
Leaf Cover design idea is functional also. Soft silicone makes Leaf Cover flexible, allowing to use nails with green Leaf Covers for key storage or hanging decorative accessories.
Green plants inspired wall decorating ideas
You can hang keys, clothing, dog's collar, photos and other lightweight items or decorative accessories on green Leaf Covers, turning the nails with green sprouts into wonderful wall decorations.
Beautiful wallpapers by Catalina Estrada, colorful wall decorating ideas
Birds inspired wall decoration ideas for kids, modern kids room decor ideas
Nail Leaf Covers for modern wall decoration
Green Leaf Cover for a nail is a new look at common things. Wall decorating ideas and furniture decoration with green sprouts, insects, bird images and flowers bring the natural theme into modern home interiors and add great colors to room decor.
Leaf Hanger Set, modern wall decoration and entryway storage solution
Hanging vases for wall decorating, craft ideas, DIY decorative accessories
Creative storage solutions and wall decorating ideas
Posted: 03.04.2012 by Decor4all