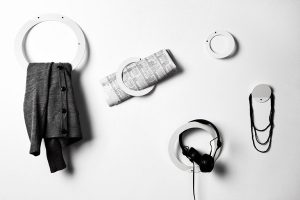 Creative wall decorating ideas and entryway storage solution from Swedish design studio Lagström Wiktorsson are simple and elegant, functional and utilitarian. The Leaf Hanger Set consists of five black or white steel rings in different sizes that can be fixed to a wall.
Steel rings create a convenient and unusual looking hooks suitable for a variety of uses. All depend on how the user anchors steel rings. Different positions offer wonderful entryway storage ideas for scarfs and cameras, dog leashes and hats, coats and jackets, creating unusual wall decor.
Functional and playful, stylish and creative wall decorating ideas and entryway storage solution from Sweden can inspire many other wall decorating ideas that will recycle useless items at home, offering convenient storage solutions. Painted and mounted on the wall, clutter items can be transformed into beautiful hangers and hooks.
Steel rings offer bright wall decorating ideas and creative entryway storage ideas
You do not need to spend a lot of money on entryway decorating. Swedish designers believe that simple and functional wall decorating ideas can offer an inexpensive wall decorations and convenient storage solution for modern homes.
Each steel ring of Leaf Hanger Set, www.lagstromwiktorsson.se/ is laser cut from a single steel sheet, minimizing material waste. The Leaf Hanger Set is available in powder-coated charcoal gray and white colors, that jazz up wall decorating ideas, adding novelty and creating functional and modern wall decor.
Modern wall decoration
Mirror wall stickers, bright ideas for modern wall decorating
Modern wall decoration, unusual flower arrangement
Storage solutions
Modern spice storage solutions
Old ladder and storage solution
Posted: 07.12.2011 by Decor4all