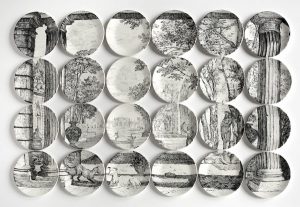 Amazing paintings on white ceramic plates by artist Molly Hatch are a great idea for unique wall decoration, and an elegant way of adding charming historic and natural scenes to your room decor. The collection of decorative plates with black drawings was presented at Sofa New York 2012, on behalf of FerrinGallery.
This project by ceramic artist Molly Hatch, www.mollyhatch.com/offers elegant and captivating wall decorations in vintage style. The collection of black and white ceramic plates is based on historic images from the prints and drawings in the MFA Boston and the Metropolitan Museum of Art in NYC.
Each composition shows beautiful scenes, which create these stunning ceramic plates collections for empty walls in your home. These interesting and very decorative plates can add a beautiful accent to your wall decor in vintage style, bringing nostalgic and antique feel into your rooms.
Celestial serving bowls, modern tableware sets for table decoration
Playful kids plates, wonderful gift ideas for kids
Decorative plates for empty walls
Historic scene painting on white ceramic plates, unique wall decoration in vintage style
Ceramic plates are amazing artworks for decorating a large walls. Grouped together, these white ceramic plates with black drawings create the entire painting for unusual and impressive decorating a large wall.
Vintage style is one of popular interior decorating trend, and collections of gorgeous ceramic plates make excellent wall decorations in vintage style, transforming empty walls into gorgeous displays.
Decorative plates with black drawings based on historic scenes, beautiful wall decorations
White and black ceramic plates with historic scenes will look wonderful with modern interior decorating ideas also, and are great for traditional and country style homes or decorating rooms in eclectic style.
Buy or DIY jewelry organizer, wall decoration in vintage style
Recycling old suitcases for wall shelves, retro home decor ideas
Unusual and elegant sets of ceramic plates with historic scene paintings will add unique charm of old times to modern wall decor, creating warm and pleasant interior decorating with the vintage style flavor.

Posted: 09.05.2012 by Decor4all