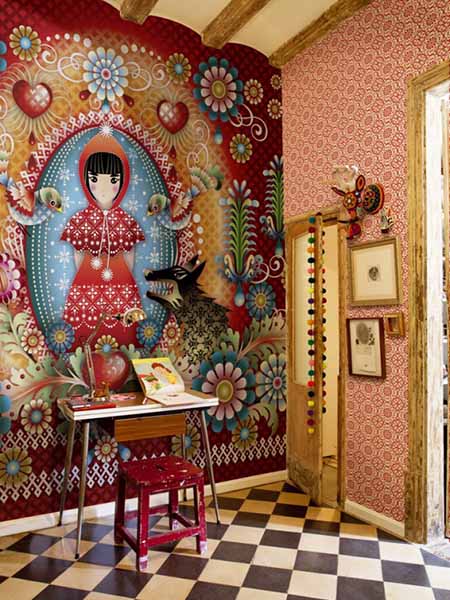 Romantic wallpaper, inspired by illusive characters and floral designs

Beautiful wallpapers by Catalina Estrada are a perfect way to add colorful, cheerful and optimistic wall decorating ideas to your home interiors. Unusual and captivating, original and bright, her wallpaper designs look like bold works of art, bringing romantic mood into modern interior decorating.
Beautiful wallpapers from the designer, born in Colombia and working in Barcelona bring all the colors of South America into interior decorating, celebrating joy and ethnic designs, inspired by decor in Latin American homes.
Her beautiful wallpapers blend the power of Latin American folklore with European sophistication, creating gorgeous wallpaper designs and color palettes for wall decorating.
Floral wallpaper design for soft bedroom decor, green, blue and pink wall decorating ideas with floral designs
Beautiful wallpapers are filled with bursts of bright colors, inviting into fantastic worlds with interesting characters. Modern wallpaper designs by Catalina Estrada are used for interior decorating around the world.
Among her clients are Paul Smith, Coca-Cola, Microsoft Zune, Sony Music, Camper, Nike, Levis, Mercedes Benz, Lexus, Honda, Paulo Coelho, Lindt, Unicef, Motorola, Chronicle Books, Barcelona's City Council, Mayor of London.
Romantic wallpaper, inspired by illusive characters and floral designs
Take a look at a surprisingly unusual, bright, cheerful and beautiful wallpapers from Catalina Estrada and get inspired by her creativity and love for colors.
Bright bedroom wall decorating with modern wallpaper
Beautiful wallpapers, romantic wallpaper patterns with vintage flavor
Amazing wallpaper designs from Catalina Estrada, catalinaestrada.com/ are the result of creative projects, inspired by the natural and illusive worlds, and bright colors of tropical forests. I love colors and shapes, and if I have a choice I want to make them beautiful, – the designer says.
Green walpaper with floral designs and birds, romantic interior decorating ideas
Born and raised in Colombia, and living in Spain since 1999, the designer brings all the colors and energy of Latin-American folklore, creating beautiful wallpapers and offering unique wall decorating ideas.
Bedroom wall decorating ideas, green wallpaper
4 new trends in latest wallpapers and modern wall decorating ideas
Her bright and romantic wallpaper designs refine ethnic patterns with a subtle touch of European elegance and grace. Her ability for creating fascinating illusive worlds, full of colors, nature, and enchanting characters, bursts in all of her pleasant, very decorative and modern wallpaper designs.
Blue wallpaper with flora designs, bright room colors and modern wall decorating ideas
Latest wallpaper trend, retro modern wallpaper designs
Latest wallpaper from Italian WallDeco, modern wall decorating ideas

Posted: 29.03.2012 by Decor4all