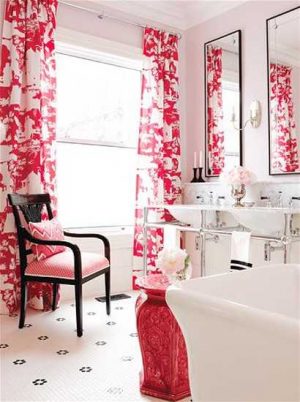 Hotel-style bathroom decorating ideas look elegant and luxurious, and can revive a tired small room with fresh and glamorous touches, luxurious upgrades and the perfect balance of traditional with modern. Interior designer Sarah Richardson shares her secrets to giving modern bathroom decorating a chic look and feel.
A stylish mix of pastel and neutral colors with bright accents in red and pink color shades looks bold and beautiful. Bright colors inject energy into modern bathroom decorating, embracing unexpected color combinations with vibrant red and soft pink. The strongest color shades of your favorite hue are excellent for adding bright accents to your bathroom interior with a creative wall design or a few bath accessories. Mixing patterns and color shades adds more interest to modern bathroom decorating also. An upholstered chair adds comfort to your beautiful bathroom decor, emphasizing soft and feminine bathroom decorating with red and pink color shades.
Hiding pipes that connect the valve to the shower head creates clean, contemporary look. A shower system with exposed fittings gives modern bathroom a sleek, European-style look and vintage charm. Using the same floor tiles in the main area and in the shower makes the space seem more spacious and elegant.
Modern bathroom decorating ideas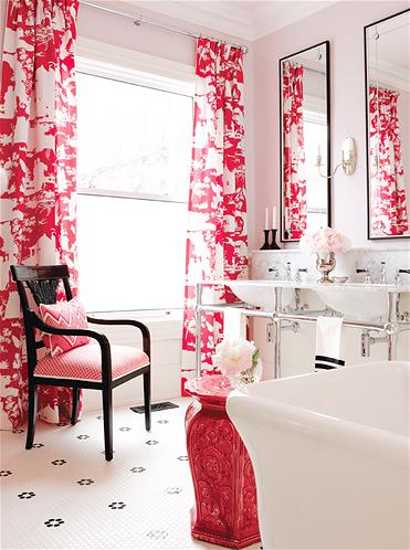 A vanity that doesn't have any cabinetry with two sinks and exposed metal legs opens up a small bathroom interior, creating airy feel. Adding a shelf above the counter helps keep bathroom decorating clutter-free and organized. A tall, skinny wall mirrors add glamor, stretch small bathroom designs and accentuate high ceilings.
Timeless light neutral colors are ideal for all elements of your bathroom design that is difficult to change. Bathroom floor and wall tiles, your bathtub and vanity in light neutral colors look elegant and bright. Wall mirrors and shower curtains, bath accessories and indoor plants create accents, bringing rich hues with details and creating bright color combinations, accentuate your modern bathroom decorating in chic hotel style.
The key to any bathroom decorating and renovation is making the most of the challenges and creating comfortable, functional, organized and stylish bathroom decorating blending space saving ideas with trendy color combinations and elegant decor. Moving the vanity beside the window is not a simple project, but it can create a perfect, handy and elegant storage space for bathroom necessities without adding a feel of a small room to your bathroom decorating.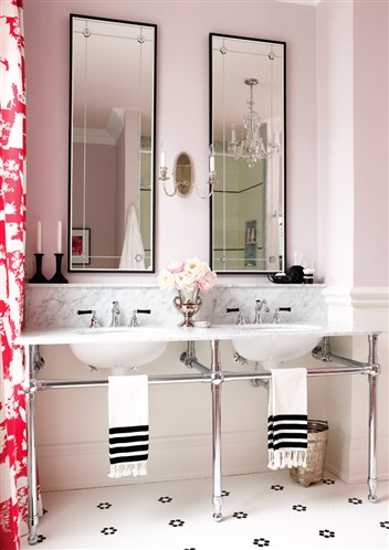 Modern bathroom decorating with pink color
Contemporary bathroom decorating ideas, bright purple and pink color shades
Stylish bathroom decorating ideas, soft pink walls
Modern bathroom decorating ideas with romantic gray-purple-pink color combination
Color trends, charming pink paint colors for walls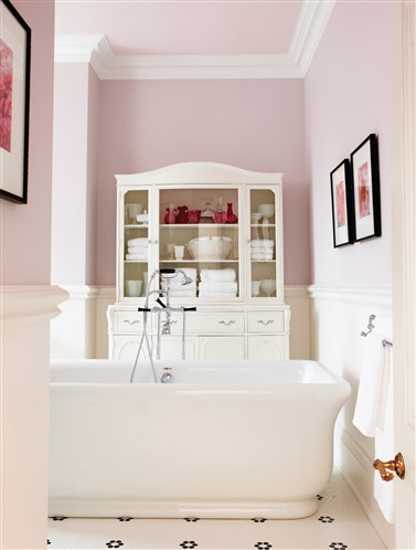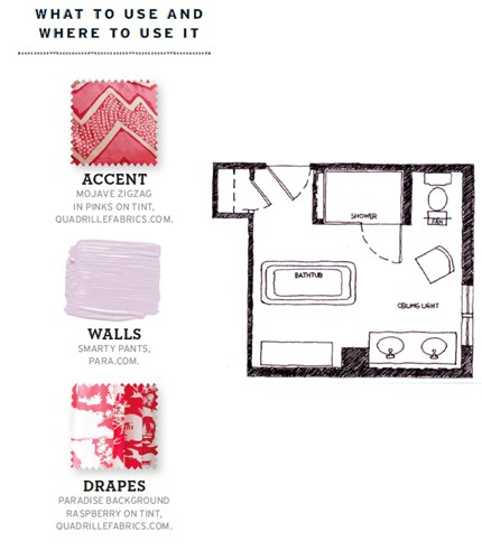 Posted: 29.04.2013 by Decor4all