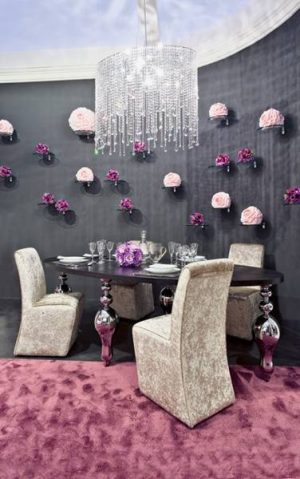 Glamorous dining room decorating ideas bring the eclectic style and luxury into modern home decor. Elegant gray color shades, combined with fascinating purple color tones look gorgeous with soft velvet, silver and crystals, helping achieve that precious, perfectly polished and impressive look for which you are ready to spend lots of money, time and effort.
The fascination a glamorous room decorating for a young or mature girl is worth every penny and second of it. Want to transform your room decor into glamorous space? Read on to find out how! Here is a simple and proved recipe for stylish and glamorous interior decorating.
Designers from Epoque by Egon Furstenberg suggest to use the decorating color scheme that include three colors – black, beige and pinkish purple or a purple and pink color tones combination, adding soft velvet fabrics and silver decor items.
Glamorous dining room decorating in eclectic style
Glamorous dining room decorating with velvet fabrics, crystal chandelier and purple-pink color scheme
Glamorous decor style is one of modern interior trends that is a brilliant blend of modern eclectic style and classic decor. Glamorous decor style requires creativity and imagination. You need to experiment and like unusual designs and surprising room decor items.
A unique table with sculptures silver plated metal legs add an excitement to dining furniture set in neutral colors, adding functionality and comfort to the eclectic decor style. The walls decorated with small shelves and purple and pink flowers make gray color looks sophisticated and bold.
Eclectic interior decorating, no particular style
Eclectic style colors, textures and shapes
The gray wall decoration, combined with purple and pink flowers remind the wallpaper designs and textiles collections, perfect for romantic girl room decorating. Pink carpet on the floor add softness with a velvet effect. Chair design is look classy, but a bit unusual also. Chair covers that hide legs are made of beautiful velvet fabric that reflect light coming from gorgeous crystal chandelier, created with a cascade of crystal pendants.
Modern dining room decorating ideas
10 modern dining furniture design trends, dining room decorating
Decorating dining rooms Moroccan style
Glamorous pink color, silver and crystal decor for dining room decorating in eclectic style
Posted: 17.08.2012 by Decor4all