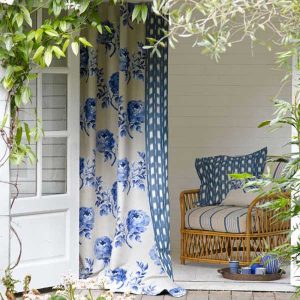 Outdoor curtains are a beautiful addition to porch and patio designs that provide more privacy and good protection from the sun, adding style and comfort to your summer decorating ideas. Outdoor curtains can be styled as tab curtain, rod pocket, grommet curtains and made of heavy or light outdoor home fabrics in different colors and patterns.
Outdoor home fabrics, used for making outdoor curtains, chair pads, table clothes and decorative pillows for your porch or patio designs, take your outdoor living spaces to a whole new level. Whether for creating a private area and fill it with romance or decorating your porch and patio designs in an elegant style, outdoor curtains are a way to create a tranquil atmosphere and add luxury to your summer decorating ideas.
Outdoor rooms are an important element of summer home decorating. Gazebo, porch and patio designs offer relaxing retreats to unwind and recharge. With outdoor curtains creating peaceful and private places is simple and easy.
15 modern ideas for summer decorating, cheap home decorations
Home fabrics for outdoor decor, beautiful summer decorating ideas
Summer decorating with outdoor curtain fabrics
Beautiful summer decorating ideas, white curtains and outdoor furniture with blue-green decorative pillows
Modern outdoor curtain fabrics are breathable and keep you cooler and more comfortable in hot weather, which is great for summer home decorating.
Modern curtain fabrics for outdoor rooms provide a UV protection, moisture and color fade resistant. Outdoor curtain fabrics resist stains, mildew and rot and can be cleaned with a soap and water.
Bright summer decorating with colorful curtain fabrics and outdoor decor accessories
A wide array of curtain fabrics styles and curtains designs are available for your gazebo, porch and patio designs. Curtain fabrics can be beautifully coordinated with the rest of your outdoor decor, adding more color and texture, interesting fabric patterns and designs to your backyard ideas.
Summer flower interior trend and color combination
Decorative fabrics in bright solid colors, summer party table decoration
Outdoor rooms with curtains allow to enjoy summer season and your backyard decorating in the privacy and shade.  Outdoor curtain fabrics can be used for exterior wall decorating and a gracious setting for a summer party.
Light curtains for private patio designs
Outdoor curtains are a great way to transform your porch and patio designs, gazebo or pergola sitting areas into romantic and cozy private retreats, adding more color and interest to your summer decorating ideas. The possibilities are as vast as your imagination.

Posted: 23.08.2012 by Decor4all