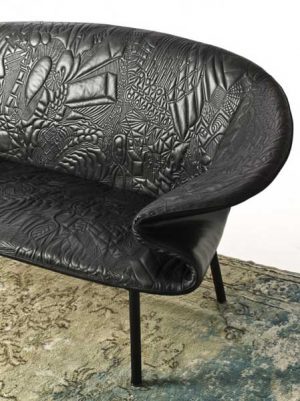 Living room sofa Doodle is created by the team of Swedish designers for Italian brand Moroso. Designers from the Swedish Front Design studio offered this surprising and luxurious black leather furniture piece with an unusual upholstery pattern, inspired by unique drawings people create unconsciously while waiting or talking on phone, negotiating or trying to solve a problem.
The black leather sofa features this amazing pattern that adds personality and gorgeous look to modern furniture design. Leather upholstery fabric in black color highlights the elegant appearance of the simple and very attractive living room sofa.
Doodle is a half-conscious sketching that helps relax and concentrate. Black leather sofa is about personality and personal expression. Swedish designers from Front Design studio used their handwriting and drawing patterns for creating this beautiful upholstery fabric that looks amazing on black leather.
Living room furniture, modern interior trends in sofas and chairs
Unique furniture design, Cactus seating and footrest
Unique sofa design and leather decoration pattern
Black leather sofa with unique decoration pattern
All three members of Front used doodles they had made during design meetings to create the leather sofa upholstery pattern. The decoration pattern is a kind of by-product of the creative process, inscribed onto the folded half circle of this beautiful black leather sofa.
Elegant curvy shape, classy black color, unique leather decoration pattern and light design make this living room furniture piece true decoration for modern homes.
Unique furniture design and black leather decoration pattern
Sofa design details
Posted: 11.05.2012 by Decor4all