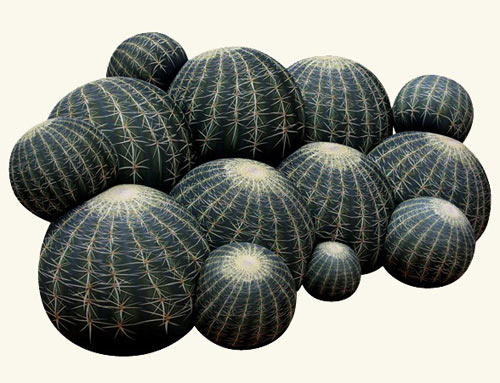 Unique furniture collection by Maurizio Galante look like large and small cacti. Realistic looking fabric print make sofas and footrests look so interesting and unusual. Eco friendly furniture is one of green ideas for design experiments and an attempt to create a harmonious blend of natural objects and man made product is exciting and trendy.
These soft furniture items might be the only cacti that won't stick you, offering comfortable seats and adding nature inspired home decorations to your rooms.
Designer Maurizio Galante, www.maurizio-galante.com/ printed an image of the spiny plant onto bi-elastic fabric to create the Canape Cactus sofa and the matching Tattoo footrest and ottoman that create a beautiful and unique furniture set.
Disfatto furniture collection by Denis Guidone, modern furniture design
TANTO bean bag by Antonio Scarponi, modern furniture for kids
Furniture upholstery fabric with print inspired by cactus
Modern sofa made of ottomans and footrests with cactus print
While at first glance you might hesitate to sit on these Cactus Seating with Footrest, you will actually find a cushy, pleasant and inviting place to rest. These unusual furniture design proves that a cactus could be comfortable also.
Cactus  furniture set is a nice way to bring the natural decorating theme into urban homes, designing an eco friendly living space with these original furniture designs.
Ottoman with cactus fabric print, modern furniture design
Cactus inspired furniture set is a way to open up living spaces into outdoor spaces and add Southern charm and warmth to modern interior decorating.
Mini Togo Chairs, playful kids furniture design from Ligne Roset
2 retro home decorating ideas, reuse and recycle for interior decorating
Unique furniture upholstery fabric print, inspired by plants, celebrate the beauty of the natural worls and encourage everyone to connect to the nature, enjoying green living ideas.
Modern furniture with cactus fabric print
Posted: 02.05.2012 by Decor4all