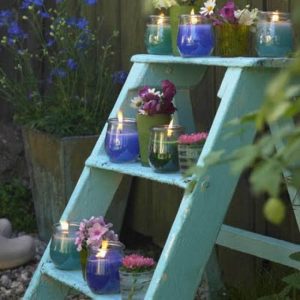 Outdoor garden decorations made of wooden ladders are charming. Simple and eco friendly backyard decorating ideas that recycle old items help get rid of clutter and protect the environment. Old wooden ladders make elegant garden decorations with small plants and flowers, wind chimes and watering cans, creating a beautiful focal point of unique garden design.
Old wooden ladders look gorgeous with climbing wines also. Old watering cans, bowls, candle holders or shoes with small plants and flowers, placed on a wooden ladder, make gorgeous garden decorations that add personality to your backyard decorating ideas and help recycle useless items.
Old work boots make good planters for flowering plants that add charming accents to an old ladder and create striking backyard decorating. Rusted watering cans or candle holders, placed on a ladder can be used for your creative backyard decorating ideas also.
Rustic wood ladders look wonderful, adding warmth and soft natural wood colors to green garden decor. Wooden ladders offer attractive backyard decorating ideas in winter, and they create stunning displays in summer, when adorned with green plants and blooming flowers.
Garden ladders are inexpensive and eco friendly backyard decorating ideas that create organic, pleasant and unique garden design. Wooden ladders make excellent garden decorations, plant stands, garden trellises, exterior wall shelves, hanging racks, chandeliers and creative sculptures.
It is not difficult to make inexpensive and cute country style garden decorations of wooden ladders for your balcony, patio, deck or porch decorating. Get inspired, use what you have in your garden for informal, relaxing and peaceful backyard decorating ideas.
Interior decorating with wooden ladders
Eco friendly decorations, driftwood craft ideas
Outdoor garden decorations are fun to make. Old garden ladders provide natural and recycled material for creating unique outdoor garden decor with watering cans and flower pots, wind chimes and small handmade garden decorations, that bring beauty and ambiance to your home at no cost and help save the planet.
Diy backyard decorating ideas, water fountain designs
Backyard decorating ideas in Tuscan style
You can easily make cheap outdoor garden decorations from an old ladder and simple natural materials, like tree branches and recycled metal wire, glass jars and small wooden boxes, transforming  your old wooden ladder into unique garden art piece for your backyard decorating.
Decorative fabrics for summer party table decoration
Fall decorating ideas, yard decorations
Posted: 27.11.2011 by Decor4all