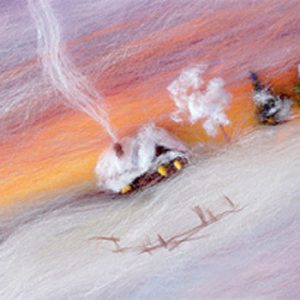 Unique craft ideas that incorporate wool fiber into gorgeous designs are excellent for winter decorating and making special, eco friendly handmade gifts for Christmas and winter holidays. Wool fiber is a beautiful, warm, natural and pleasant material that brings soft texture and comfort into modern homes.
Wool painting is fun. Easy to learn, simple and enjoyable craft ideas are a way to design personal wall decorating ideas that add elegant artworks to room decor. Wool paintings make impressive and inexpensive handmade gifts for your family members and friends, making them feel very special.
You need a frame with glass and backing, white soft paper or flannel fabric, colorful wool rovings or wool tarn skeins, scissors and tweezers to create an outstanding wall decoration or an unusual handmade gift for a special person, enjoying creative craft ideas and the beauty of natural material.
Winter landscape, wool painting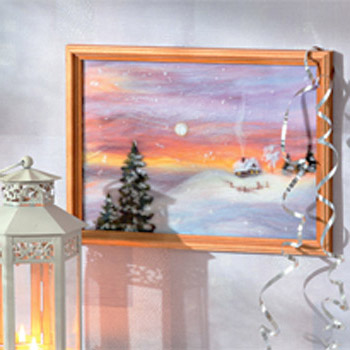 You need to cut out a rectangle of white paper or fabric the size of the frame backing. Glue it to the mounting board and start winter landscape painting with wool.
Fluffy wool fiber is great for creating colorful background. Lay out long and short strands, which are nearly transparent, using delicate fluffy wool pieces.
Strands need to overlap each other, creating a beautiful blend of winter landscape colors. It helps create a smooth transition from one color to another, adding the depth to wool paintings.
Lay out wool pieces in white color for creating snow drifts, sculptured by wind during snow storms. Layers of wool stripes in various thickness create 3-dimensional effect.
Use tweezers for working with small pieces of wool for painting landscape details and adding contrasting accents. The roof of the house, windows, fence, tree trunks and branches are made of small wool fiber pieces.
Wool in yellowish colors bring beautiful reflections of the sky at sunset. The smoke is painted with twisted wool strands in soft grayish white color. Tree trunks are painted with twisted strands in dark gray and brown colors.
To make wool painting more artistic, deep and rich, add small pieces of wool fiber in dark green, blue and grayish blue colors to trees around the house. Different color tones help create more attractive and impressive wool paintings look. Add white wool fiber to tree branches and fence near the house for snow and make a wool painting more realistic and interesting. Wool in yellowish colors are perfect for painting  the Moon and moonlight.
How to create Winter Landscape wool painting
Frame Winter Landscape, cutting off the excess wool outside the frame and covering the wool painting with glass. The wool painting of beautiful winter landscape make a great handmade gift or can decorate an empty wall, bringing the charming winter decorating theme into your room decor.
Modern wall decorating ideas
Wool painting, unique handmade gifts and wall decorating ideas
Modern wall decorating ideaa, juju hats
Wool paintings are gorgeous craft ideas for adults and kids. Amazing wall decorating ideas and unique handmade gifts, they bring warmth, soft wool texture and pleasant colors into home interiors. Landscapes and animal portraits, still life and abstract wool paintings make room decor different and more interesting, creating artistic atmosphere and giving a personal touch to wall decor.
Creative craft ideas
Craft ideas for wall decorating, making masquarade ball masks
Simple glass painting design ideas, vase or wine glass painting
Glass painting ideas, dads birthday and Fathers Day gifts
Posted: 26.06.2018 by Decor4all