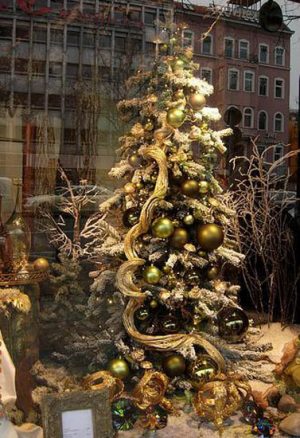 Christmasworld, the largest holiday decorating trade show, offered four color trends for 2011-2012 Christmas decorating and other winter events decor. There are no taboos when it comes to exciting and creative Christmas themes or festive and gentle Christmas colors of 2011-2012 winter holiday ornaments.
Bountiful Scenery, Delightful Garden, Elemental Force and Gentle Horizon are the four modern Christmas decorating trends for 2011-2012 winter holiday season, inspired by old traditional and current fashion, interior design and street life.
Bountiful Scenery Christmas decorating trend brings exotic themes and bright Christmas colors, ethnic prints, Asian patterns, gemstones, pearls, lace and ribbons. Delightful Garden uses retro-modern Christmas decorating ideas with a 50s charm, pastel colors, tender stripes and floral prints.
Elemental Force Christmas decorating trend offers natural materials, like stone, clay, glass, copper, recycled paper and eco friendly felt, with bold colors including navy blue, black, golden and rust red color shades. Gentle Horizon comes with modern minimalistic Christmas decorating ideas and elegant gray color tones, soft browns and bright accent colors.
Christmas decor trends from Christmasworld 2010
4 Christmasworld color trends for 2011-2012 Christmas decorating
The bold color of ripe berries are hot choices for 2011-2012 Christmas decorating. Black, dark blue and gray with golden color tones blend into modern Christmas decorating  palette. Black and dark blue, combined with white, silver and golden color tones, offer especially elegant and contrasting color palette for bright and modern 2011-2012 Christmas decorating ideas for winter holiday season.
New colors and designs, inspired by the fashion industry, make modern Christmas decorating ideas and creative ornaments look unusual and extravagant. Adorned with golden and silver dust, white snow and encrusted pearls, or decorated with lace and ribbons, beautiful Christmas ornaments add chic to modern Christmas decorating ideas.
Christmas color trends and modern decorating ideas
Golden and white Christmas decor
Christmas table decorating ideas, silver Christmas centerpieces
6 modern Christmas decorating ideas for 2011-2012 winter season
1. Candlesticks in the shape of stars, butterflies, dragonflies, birds, fish, corals and sea shells in modern black, golden, ripe berries, dark blue or purple colors bring a sensual atmosphere into festive homes.
2. Festive modern Christmas decorating ideas for 2011-2012 winter holiday tables combine the shiny color with one of colors of ripe berries or fresh herbs to add juicy flavor to Christmas decor. Matte textures, complemented by glossy Christmas ornaments and details make Christmas decor for this winter holiday season feel harmonious and charming.
3. Natural materials, handmade Christmas decorations and earthy Christmas colors offer pleasant decorating trends for unique and relaxing 2011-2012 Christmas decor.
4. Light and dark purple color shades for Christmas decorations are modern Christmas decorating trends that come with great opportunities to experiment and create personal and stylish holiday room decor.
5. Traditional Christmas balls are trendy also. Colorful, creative and extravagant, decorated with felt fabric and leather, Christmas balls are modern decorations, which are perfect for enjoying unique decorating ideas.
6. Black, light or dark purple and blue with golden color tones, or pale green with orange create interesting and fresh color palettes for 2011-2012 Christmas decorating to please all those who prefer to surround themselves with new, cool and warm colors.
Posted: 06.11.2011 by Decor4all